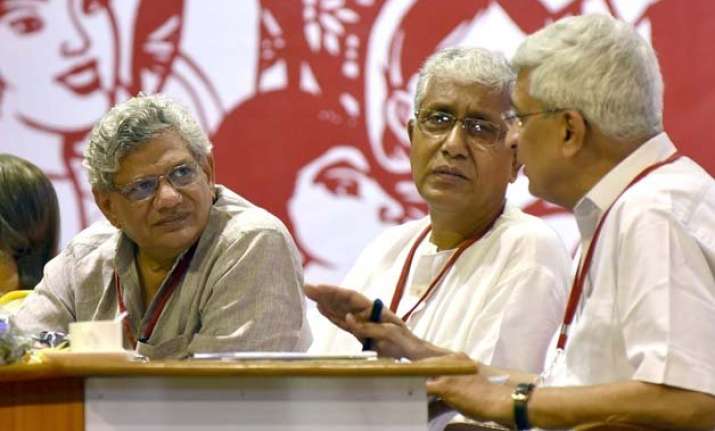 Visakhapatnam: The Communist Party of India-Marxist today unanimously elected senior politburo member Sitaram Yechury as its new general secretary. He will replace the outgoing general secretary Prakash Karat.
At the meeting of the new Central Committee (CC) on the last day of the party's 21st Congress, outgoing general secretary Prakash Karat proposed Yechury's name and S. Ramchandran Pillai seconded it. The 91-member CC unanimously approved it.
The election of 62-year-old Yechury came after Pillai, who was reportedly in the fray for the top party post, withdrew, ensuring that the party continued its tradition of electing its leader unanimously.

Prakash Karat later made the formal announcement before the media. 
Also Read: Merger with CPI certain, hints CPI(M) general secretary Sitaram Yechury
Addressing the CPI(M) meet here, Yechury, after getting elected as the general secretary, said, "Our task is to strengthen unity of Left and democratic forces. The unmistakable conclusion of this congress is that the crisis in capitalism continues to deepen in the world. There is no alternative except to strengthen the struggle for socialism. If there is any future for human civilisation, that future lies in socialism."
Yechury, who termed the new task as challenging, introduced the 16-member politburo. The four new politburo members are Mohammed Saleem, Subhashini Ali, Hannan Mollah and G. Ramakrishnan. Subhashini Ali is the second woman in the politburo after Brinda Karat.
The politburo members are Sitaram Yechury, Prakash Karat, Brinda Karat, S Ramchandran Pillai, Biman Basu, Manik Sarkar, Pinyarayi Vijayan, BV Raghavulu, K Balakrishnan, MA Baby, SK Mishra, AK Padmanabhan, Mohammed Saleem, Subhashini Ali, Hannan Mollah and G Ramakrishnan.
Earlier, the Congress elected the new CC. It approved the names finalised by the outgoing politburo on Saturday night. This was followed by the election of the new politburo and the general secretary by the CC.
Apart from 91 members, the CC has five special invitees and five permanent invitees.
During its 21st congress which concluded here, the CPI(M) said that the immediate task on its hand was the fight against the Narendra Modi government's policies and "communal" agenda of the Hindutva forces, but ruled out joining hands with Congress in its campaign.
"This (fight against BJP and its policies) is the main task at hand. This requires a concerted opposition to the Modi government's economic policies and its Hindutva-oriented social and educational policies," said the draft political resolution adopted by party yesterday.