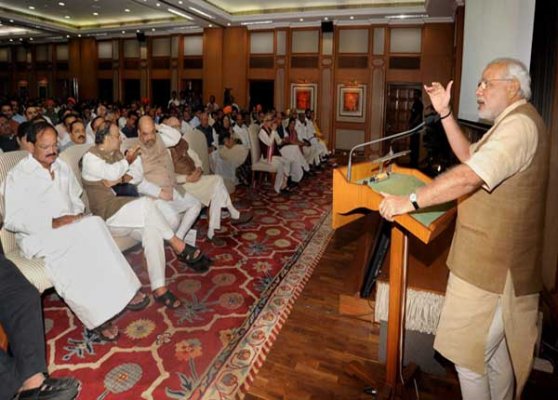 New Delhi: With no option left to 'corner' the Bharatiya Janata Party (BJP), the Shiv Sena now seems to be exploring all options to join hands with the saffron party to form the government in Maharashtra.
The party in its mouthpiece 'Saamana' today lavished praise on Prime Minister Narendra Modi for hosting tea part for National Democratic Alliance (NDA) MPs.
The 'Saamana' editorial said that Modi's decision to invite NDA MPs was a 'very positive' step in this direction which will further concrete the political equation.
On October 27, Modi had met all MPs of the ruling NDA at his official residence 7, RCR over tea -- seen as an attempt to boost the performance of the government as well as also the BJP's ties with its alliance partners. Shiv Sena's 18 MPs, the second largest constituent of the NDA, had also attended the meet. However, Sena chief Uddhav Thackreay, in the in the backdrop of internal 'rift' between both the party in Maharashtra, had opted to give a miss to this gathering despite of getting invitation from the Prime Minister.
The article further lauded the schemes of the Modi government saying they are aimed at empowering the poors.
It also attacked took the opportunity to attack erstwhile Congress-led UPA government's policies for wasting huge amount on several policies which never benefited poor people of this country.