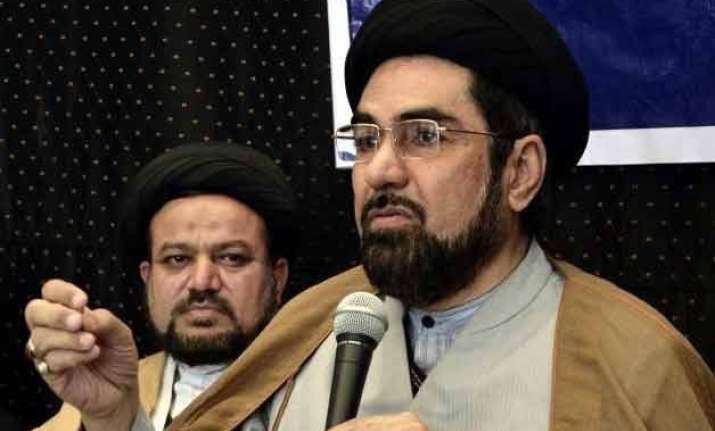 Lucknow: With two years left for UP elections, prominent Shia leader and Imam-e-Juma Maulana Kalbe Jawad is already bracing for the poll preparation.
Seeking a fair representation of Shia community in governance and decision making, Jawad  said the Majlis-e-Ulemae-Hind would form a new political alliance to fight Samajwadi Party.
This could be a cause of concern for Samajwadi Party which heavily relies on minority votes in the state, though it is too soon to predict anything.
Conference was organised on the grounds of the historic Imambara Ghufran Ma'ab under the banner of Majlis-e-Ulama-e-Hind, whose general secretary is Kalbe Jawad.
Around 2,000 persons, including Imam-e-Juma'h, heads of various Shia organisations and leaders from the community who arrived in from over four dozen districts, participated in the conference.
While addressing the gathering, Jawad said," We believe that the people in the state government give wrong information about our (Shia) population. The fact is that we are in a position to win 50 to 60 Assembly seats on our own.
This number can go up to more than 200 if the Sunni and Hindu brothers stand by us."
"The political front would be an alliance and will incorporate Shia, Sunni and Hindu leaders and work for the development and peaceful coexistence between communities," said Jawad.
Releasing a list of 50 assembly seats in Uttar Pradesh including Lucknow West, Lucknow East, Lucknow North, Bakshi Ka Talab, Barabanki, Sultanpur, Allahabad North, Allahabad South and Phulpur where the community has 10,000-50,000 votes each. They also claimed that they could easily ensure the victory of any candidate on these constituencies.
"We cannot sit idle when the state government is victimizing the Shia community. We want our representation in the government, inclusion of the property of Lucknow's Hussianbad Trust in Waqf and 20 per cent reservation for Shia community in every scheme of the state government for the minority community," said Maulana Mohseen Taqvi, who presided over the meeting.
"Now we will take our rights by fighting our battle politically," he added.