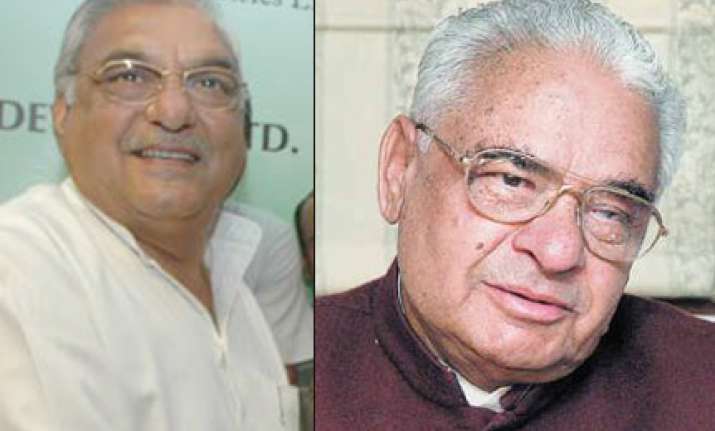 Seven newly-elected independent MLAs in Haryana have faxed a joint letter of support to the Governor expressing their intention to support the Congress in forming a government, Congress sources claimed in Chandigarh on Friday. 
Haryana chief minister Bhupinder Singh Hooda, who has fallen short of a simple majority by six seats, is visiting Delhi on Friday to discuss government formation with Congress president Sonia Gandhi, even as political circle were agog with speculations that Kumari Selja may be made the chief minister by the party high command. 
Om Prakash Chautala, the man who was written off by both foes and allies emerged as the biggest surprise of this round of assembly elections in Haryana. Chautala and his INLD not just notched up an unexpected tally of 32 seats, he also took the sheen off Bhupinder Singh Hooda who was expected to win a landslide in Haryana.
 Hooda is expected to cobble up a majority and retain his chair, but will now have to fear not just Chautala but the Congress leadership too on whose pleasure he will stay in office. 
The Congress vote share fell in the state by a huge 7.4%, from 42.5% to 35.1%. Normally such a big swing away results in the decimation of a party. But Hooda has managed to keep his head above the water, thanks largely to a fractured opposition. 
Chautala, too, lost his vote share, but by just 0.7%, while BJP's share fell by 1.4%. The new political outfit, Kuldip Singh Bishnoi's HJC, accounted for 7.4% votes. 
A less confident Hooda will be dependent, at least for now, on independents who can help him make up the gap between Congress's tally of 40 and the magic figure of 45 in the 90-strong House. Congress has enlisted the support of 6 independents and was likely to stake claim on Friday to form the government. 
While the wooing of Independents is on, hectic political activity has been noticed in the Chautala camp too. It is unclear if Chautala will stake his claim to form a government or not. 
Shocked by the results, Congressmen were pointing to the pattern in Haryana where the incumbent of all stripes fail to return to power.
At one point of time, there was a suggestion from certain partymen of a Congress-HJC partnership in Haryana with Bishnoi as the deputy CM and Kumari Selja as CM. 
The party leadership, however, didn't warm up to the idea. It felt that a partnership in Haryana could mean a bargain for the central ministerial berth later on. Besides, it is comfortable with Hooda. 
Chautala is now certain to emerge as the main pole of non-Congress forces in Haryana. The BJP, which made a bad call to go it alone in the state, is expected to find new virtues in him as Congress's march forces it to try to strengthen the NDA. 
For Chautala it's a reversal of the decline that began in 2004 with INLD getting only 9 out of 90 seats in the assembly polls, and reached its nadir in May 2009 when it drew a complete blank in the Lok Sabha elections. Now this Jat leader is the main challenger to Hooda, himself a Jat, a caste that forms 24% of the voters. 
Hooda's colleagues complained that complacency on his part almost did him in. Congressmen acknowledged that they had underestimated the discontent over power shortage, price rise and the feeling that Hooda's priorities were focused more on the districts like Gurgaon and Faridabad that abutt Delhi and are in the NCR region.