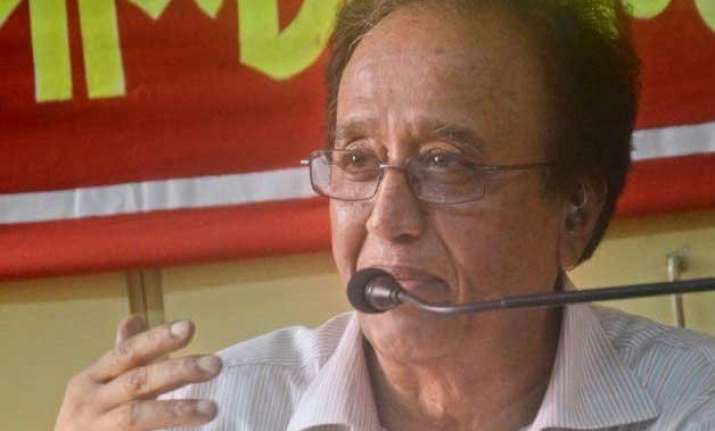 New Delhi: Slamming Shiv Sena MP Sanjay Raut for his "most unconstitutional and unwarranted" view that Muslims voters should be disenfranchised, CPI today said that it "vehemently condemns" the stand and called on the Maharashtra outfit to desist from espousing such ideas.
The party further said that Raut's opinion, as expressed in an editorial in Sena mouthpiece 'Saamana', would only aggravate the problem and lead to communal polarisation at a time when remarks by Sangh Parivar leaders are already spreading venom in the minds of people.
"The CPI National Secretariat vehemently condemns the statement by the Sena leader. Such a statement is most unconstitutional and undemocratic," party general secretary S Sudhakar Reddy said in a statement.
Hitting out at the Uddhav Thackeray-led outfit for dishonoring the Constitution when its preamble categorically states that India is a democratic and secular republic, Reddy further said that people of different faiths had contributed in the independence struggle and in the post-independence era as well.
"In such a situation, Sena's talking on the lines of religion is most unwarranted, undemocratic and unconstitutional.
"Several statements by the Sangh Parivar are already preading communal venom in the minds of the people of our country and such statements by Sena will further aggravate the situation and lead to communal polarisation," he added.
CPI also alleged that statements made by MIM chief Asaduddin Owaisi, who had thrown a challenge to Sena leaders to enter Hyderabad, too, would promote communal polarisation even as it described such challenges and counter challenges as "match fixing".
"Such challenges, counter challenges and provocative statements from both parties will damage the very secular fabric of our society. Such statements are nothing but match fixing," he said, urging against the making of communal and provocative statements.
In an editorial in Saamana, Raut had written, "Vote bank politics is being played in the name of fighting against the injustice meted out to Muslims. Their educational and health status is being used politically. This politics was once played by the Congress and now every other person calls himself secular.
"If Muslims are only being used this way to play politics, then they can never develop. Muslims will have no future till they are used to play vote bank politics and, thus, Balasaheb had once said to withdraw Muslims voting rights. What he said is right."