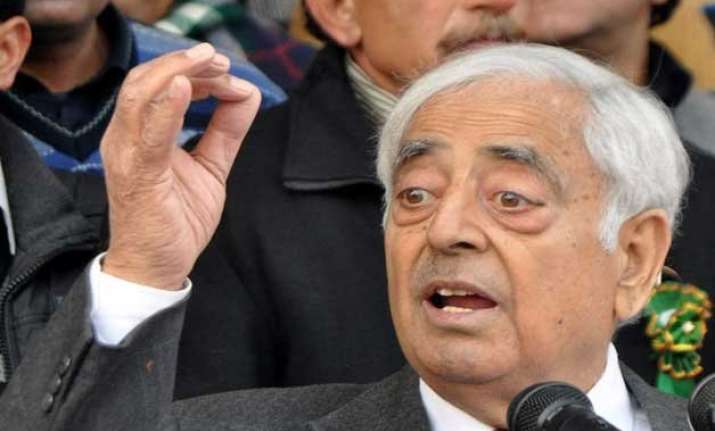 Ahmedabad: Jammu and Kashmir Chief Minister Mufti Mohammad Sayeed today said red-tape in governance has been removed and transparency introduced since Prime Minister Narendra Modi assumed office but translating his slogan of development of all will be a "long race".  
On the PDP-BJP coalition government in Jammu and Kashmir led by him, Sayeed said, "I call this... as if North pole and South pole have met each other."
On a visit to Gujarat where Modi had served as chief minister for long, Sayeed said people were waiting for 'Sabka Sath Sabka Vikas', Modi's famous slogan, to translate into reality, but it was going to be a "long race".  
"There is no red-tape, transparency is everywhere. Such a model has come up before this country," he said, commenting on Modi's performance as the Prime Minister.  
"Narendra Modi made Gujarat a model. I have sent my bureaucrats here to see the systems in panchayats. The system will work when it is transparent, corruption-free and if there is no red-tape in it. System works with single-window system," Sayeed said at an event to promote tourism.  
"But India is a big country. There are so many people here; diversity is the essence of India. Unity in diversity.  People here have elected him for three or four times (as Gujarat CM)... Modi gave the slogan 'Sabka Sath, Sabka Vikas' (support to all, development of all). People are waiting for it. Where has it gone? They do not know this is a long race," he said.
"If you want to set up an industry, it also takes three to four years. Same is the case with a power project," he said, suggesting that bringing about development for all too would take some time.
Sayeed was accompanied by Jammu and Kashmir Finance Minister Haseeb A Drabu, Minister of State for Education Priya Sethi and some senior officials.