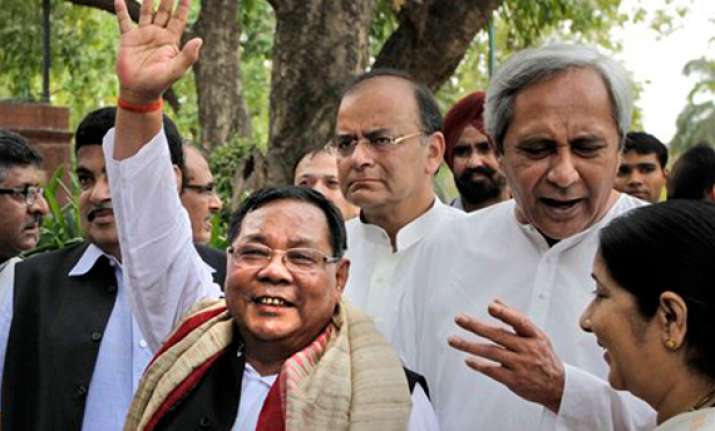 New Delhi, Jun 28: Just as he was being written off as a politician, former Lok Sabha Speaker P A Sangma jumped to the centrestage of politics by throwing his hat in the Presidential race.
The dimunitive Sangma, a nine-term Lok Sabha member, played the tribal card and projected himself as a candidate for the top Constitutional post with the support of Tamil Nadu Chief Minister J Jayalalithaa and Odisha Chief Minister Naveen Patnaik.
The twist and turns in the 14th Presidential election saw the 64-year-old leader from the northeast pitted against UPA strongman Pranab Mukherjee with support from BJP and some of its allies after the original Opposition favourite A P J Abdul Kalam opted out in the absence of any consensus on his candidature.
Sangma will be remembered as the affable Speaker of the Lok Sabha who would always be seen sporting a smile even if the House he presided was in turmoil.
Once considered as a blue-eyed boy of Indira Gandhi and Rajiv Gandhi, Sangma rebelled against Congress President Sonia Gandhi in 1999 raising the issue of her foreign origin and forming the Nationalist Congress Party with Sharad Pawar.  He even parted ways with Pawar to join Mamata Banerjee's Trinamool Congress in 2004 only to return to the NCP a couple of years later.
However, when Pawar expressed inability to back his candidature in the Presidential elections, Sangma quit the party to pursue his ambition.
Born on September 1, 1947, in Chapahati village in West Garo Hill, Meghalayam Sangma has been a lecturer, a lawyer and a journalist before plunging full time into politics.