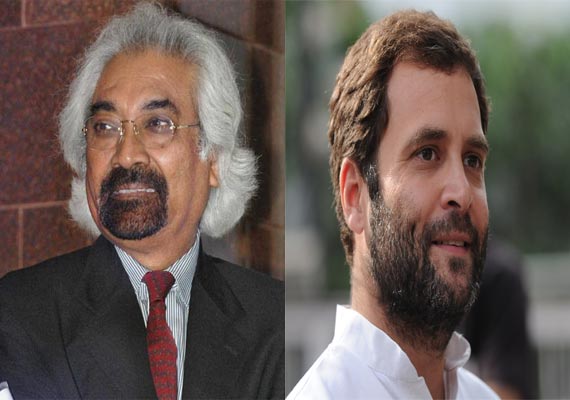 New Delhi: Sam Pitroda, adviser to the Prime Minister on Information Infrastructure and Innovation, has said Congress vice president Rahul Gandhi did the right thing in describing the ordinance favouring convicted politicians as 'nonsense'.
Grilled by Rajat Sharma in India TV's show Aap Ki Adalat, Pitroda reacted to Rahul's 'nonsense' remark saying: "I personally thought that was good. Okay, I thought that was one way to represent".
When Rajat Sharma said, Rahul could have used milder words, Pitroda replied; " You don't have to be polite all the time. It's okay. It's alright for you to become mad once in a while. You're that..you're not trying to score something. See, I always tell people, you can't be popular and be a good manager. If you want to be a good manager, sometimes you have to act differently."
Pitroda, reportedly close to the Gandhi family, made several insightful remarks about Rahul Gandhi's persona.
"To me, he is a bright young man, low-key, not flashy, not out there to create an image. He's fairly humble, well-read, compared to what people think, he's very analytical and he does things in his own ways, like lot of our young people do. That's the way it should be", said Pitroda.
Asked by Rajat Sharma whether he "advised" Rahul Gandhi, Pitroda said: "It's a lie. I sometimes speak to him, but to speak and to advise somebody are two different things."
Pitroda revealed he had given some tips about computer software programming language C to Rahul several years back.
Asked about Finance Minister P Chidambaram saying that Rahul Gandhi was not being given proper advice and he should raise national issues, Pitroda said: "That's his privilege. Chidambaram should talk to him". 
Pressed by Rajat Sharma whether Rahul should raise national issues in his speeches, Pitroda replied: " That's his privilege. That he should decide. Why should I decide?"
On whether Rahul Gandhi knew less about economics, Pitroda replied: "Not true. He's well read. He's studied well, but somehow people create their own image.  You know, people have image of me also. Some people think that I'm a Christian. Some people think, you know, I'm rich. So, people have their own ideas. It's okay to have their own ideas. You can't worry about changing that every day. I can't."
Pitroda admitted that he had gone with Rahul Gandhi on a three-day tour to Amethi and had samosas and jalebi on the roadside with him.  "Kuch toh khana padta hai. wahan jalebi aur samosa hai to jalebi aur samosa khayenge".
Asked why he was refraining from giving proper advice to Rahul Gandhi, Pitroda narrated an incident that took place in 1986 in Bhopal, when he had gone there with Jairam Ramesh.
"A young fellow gave us a list of advices for Rajiv Gandhi and said, if Rajiv followed the advices he would rule for the next 15 years. I asked him, what are you doing. He replied, I am jobless. So in India, people do not know their jobs, but they know what advice to give to the PM. Most people in India know what others should do".
Pitroda describes as "lies" media reports that he was behind preparing the Congress party's manifesto, strategy and vision document.
"I must tell you, as adviser to the Prime Minister, when I meet the PM I never talk about work. I was with Rajiv Gandhi for 10 years, but we seldom talked about work. That's my job.  I don't go and tell Manmohan Singh what work I am doing. He knows what I'm supposed to do. I am a qualified man. I don't need to go and give him advice. I need to do my job.
"Yeh India me wrong idea hai, sabke paas, ki Adviser meaning, you are advising. Adviser means,  you do your work.  Our work is very clearly spelt out, that is, Innovation and Information Infrastructure. that's what I do. I never tell the Prime Minister what he should do on innovation".
Pitroda said, he never advised the Congress party except once in 1985.
Narrating the incident, he said: "Let me tell you the facts. To put it on record. When Rajiv Gandhi gave his speech in Mumbai in 1985 at the Congress centennial celebration, he came to Delhi and asked me, Did you read my speech. I said yes, what next? what's going to happen? He said, what do you think? I said, Wait, I will put together a plan on party's rejuvenation. This was 1985.
"Immediately, I can tell about it now, I never talked about it for 25 years. I don't discuss personal things in public. But now that you have raised, I can't hide. See, I put together a document. Immediately he called his people - Arun Singh, Arun Nehru, all the gang. We looked at it. That was the document I prepared in 1985. That's it. That document is still alive."
Asked about Rahul Gandhi mentioning his caste as carpenter thrice in a rally in UP, while releasing the party vision document, Pitroda said: "Look, Jesus Christ was also a carpenter. Kya fark padta hai (what difference does it make). I'm proud to be the son of a carpenter. That's a fact of life, but when I studied computer technology, my caste got wiped out. I have a new caste. Education is always redefining yourself. But I can't forget I am indeed the proud son of a carpenter."
Asked why Rahul mentioned about his caste during elections, Pitroda said: " Very good, I'm proud of it. What's the problem?  You see Indian media always looks at things with a twist. Because they have to sell newspapers. His message, according to me, was:  if Sam, a son of a carpenter, can do it, you can also do it. That was the message, but you can twist anything."
When Rajat Sharma said, BBC then reported saying Pitroda was the new OBC poster boy of the Congress, Pitroda said: "Do I look like a poster boy?"
When Rajat Sharma pointed out that even Narendra Modi's backward caste was also being portrayed, Pitroda said; "Be generous, yaar. Kahne do, kya fark padta hai. Let them find out. They will learn."
On CBI director's remark that Food Security and similar other schemes were corruption-prone, Pitroda said: " First of all, in a country of our size, there will always be some leakage. You will have to accept that. If you are worried about leakage you will not do anything. You've got to accept that as part of life. In India, we have 200 million hungry and we have food surplus. If we don't feed our people well, we will not have the workforce for the future. We need nutrition, we need to give our children enough food. I am all for food security."
Pitroda mentioned about the National Knowledge Network that he and his team is working on.
"Dekhiye, hamara kaam hai, to democratize information. Hum samajhte hain, it will change the face of the country in 10 years. It will change the lives of all the young people in 10 years. Nobody understands it. We are creating a National Knowledge Network to connect 1500 nodes with 50 gigabytes bandwidth to connect all our colleges, all our universities, all our libraries, all our R&D institutions.
"Then, we are connecting 250,000 panchayats through optical fibre. It will take maybe another two years. These two networks will cost us around Rs 50,000 crore. Then we are building platforms like UID, Nandan Nilekani sahab bana rahe hain. GIS Dr ramaswamy and Dr Kasturirangan bana rahe hain. Applications Dr Garola bana rahe hain. Payment,procurement, date centers, cyber security, isme aur 50 hazaar crore lagenge.
"Abhi 10,000 software people are working in the government to prepare all this. No government in the world would even think of this. When I explained this to Obama, he was literally surprised. We don't get credit for it."
Aap Ki Adalat with Sam Pitroda will be telecast on India TV on Saturday Nov 16 at 10 pm and Sunday Nov 17 at 10 am and 10 pm.