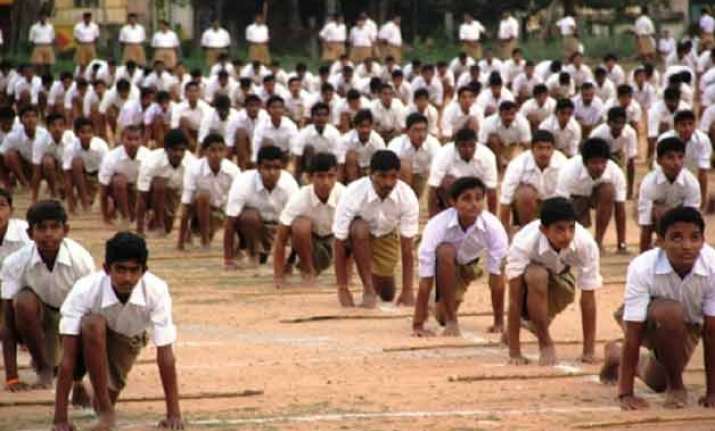 New Delhi: The Rashtriya Swayamsevak Sangh (RSS), world's largest voluntary non-governmental organisation (NGO) and the ideological parent of the ruling Bharatiya Janata Party (BJP), is planning to expand its reach to rural India by 2019.
The right wing organisation aims to open at least one shakha in every mandal—which comprises of a block of 10-12 villages—over the coming four years, which coincides with the next general election.
The ambitious plan is noteworthy, given the key role played by the Hindu Organisation in shaping up  BJP's audacious win in the last general elections.
To achieve this target, Sangh  is despatching volunteers as well as full time workers to rural areas where its shakhas and branches do not exist.
Sangh leaders admit that the plan is challenging given the organisation currently has only 20,000 mandals out of the total 55000 in the country. Members say this kind of expansion is key to realizing its vision.
"Since the beginning when the RSS was formed in 1925, the idea has always been to expand its reach to every village, and we are now trying to increase the spread of the network in the country," an RSS leader told livemint.
The Hindu Nationalist organisation will especially focus on southern and north-eastern states where it has a weak presence and a lot of grassroot level work is needed.
Besides, the growing popularity of PM Modi, who started his political career as a Sangh Sevak, is also benefitting the organisation.
Interestingly, RSS leaders admit that since the formation of the National Democratic Alliance government, there is a surge in the demand for shakhas in many districts.
Political analysts say the expansion plan of RSS is being timed to take advantage of the momentum generated by a BJP-led government and to popularize hindutva ideology in the country
"There is a BJP government in the country. RSS will try to popularize hindutva ideology in the country. This programme of RSS is very similar to what the Communist Party of India (Marxist) did in West Bengal," said Bidyut Chakrabarty, a political science professor at Delhi University