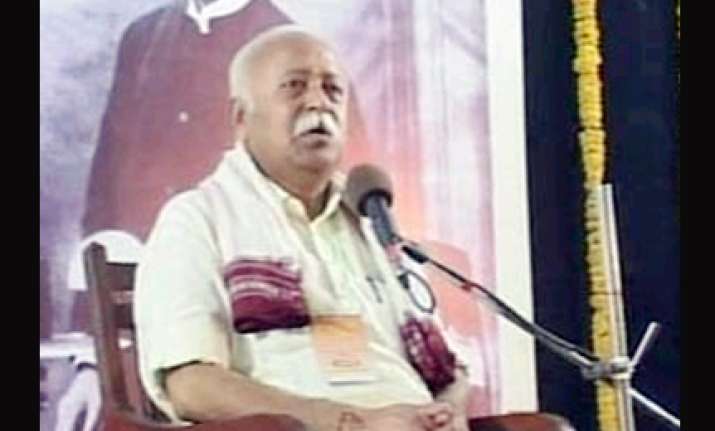 Distancing itself from decision-making process in BJP, the RSS chief Mohan Bhagwat on Saturday said he had counseled the party leadership to look for a "young" candidate who can "restore its organisational set-up".
Bhagwat, talking to reporters in Pune, maintained that the RSS gave advice to BJP only when it is solicited as the party has its "Swayamsevaks" in its ranks.
On his reported statement that the new BJP president would be from outside Delhi, he said he had only articulated the views expressed by the BJP leadership.
Asked whether the RSS favoured Nitin Gadkari from Maharashtra for the post, Bhagwat said he never made a statement to that effect.
Bhagwat said there were three to four names that were being discussed to head the party.
"We have conveyed our expectations of the new leader and if they (BJP leaders) approach us after taking a decision we will okay it," he added.
On the RSS expectations, he further said "We have told them (BJP) to restore and tighten the party's organisational system and structure and choose a young president having leadership mindset".
Replying to a question, Bhagwat said RSS had never set a deadline for leader of the opposition L K Advani to step down by February and its spokesman Ram Madhav had already denied the statement attributed to him.
On the issue of replacing the traditional RSS "Ganavesh" (uniform) --- Khaki shorts, white shirt and leather belt, he said, "The topic is on our agenda. A decision on changing "Ganvesh" will be taken by consensus in RSS 'Pratinidhi Sabha'."
"The opinion on the issue is divided 50/50 percent," he commented.
However, he subsequently also said that a majority of RSS workers did not consider the present attire as a "hindrance" and added it was a "wrong impression" to say that young Swayamsevaks found it unattractive. PTI