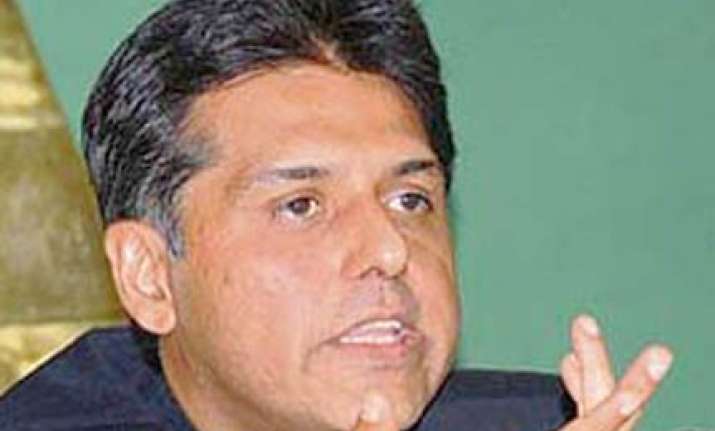 New Delhi, Oct 27: Congress today said that the activities of the RSS needed to be "closely watched and monitored" in the wake of revelations by Rajasthan ATS in the Ajmer blast probe but said it was for the Government to decide on the issue of a ban on the organisation.
"The RSS activities needed to be closely watched and monitored, but it is in the purview of the government as to what sort of action needed to be taken or not taken", party spokesman Manish Tewari told reporters.
He was replying to a question whether the revelations by the Rajasthan Anti-Terrorism Squad following a probe into the Ajmer blast was a 'fit case' to ban the RSS.
The AICC reaction came in the wake of a statement from Rajasthan Home Minister that the State's ATS might be getting ready to interrogate senior RSS leader Indresh Kumar for his alleged role in the Ajmer blast case.
On Rahul Gandhi's remarks that RSS was no different from SIMI, Tewari said that the young leader had made the statement in a certain context. "One kind of fundamentalism works as a canon fodder to another kind of fundamentalism," he said.
Dismissing RSS charge that the probe had become "political and vindictive" and was showing signs that it was a "sinister design to defame the RSS," Tewari said that there was need for the Sangh to do serious introspection instead of washing its hands of the affair.
"Why is that whenever a reference to the RSS comes, it is always in a negative way and never in a positive manner? The RSS needs to ponder over as to why its thought was giving rise to fundamentalism", he said.
Alleging that the accused in the Ajmer blasts were closely associated with the RSS, he said Sangh's charge that it was a politically motivated affair was a "very weak defence" and shows that it has become "panicky" in view of the "serious matter".
Replying to a question, he said that the concerned court would decide as to who is involved in the blast. He said that trial has already begun in the Malegaon blast.
Tewari also recalled how Sardar Patel, whose legacy the RSS and the BJP is seeking to appropriate, had spoken about the RSS. PTI