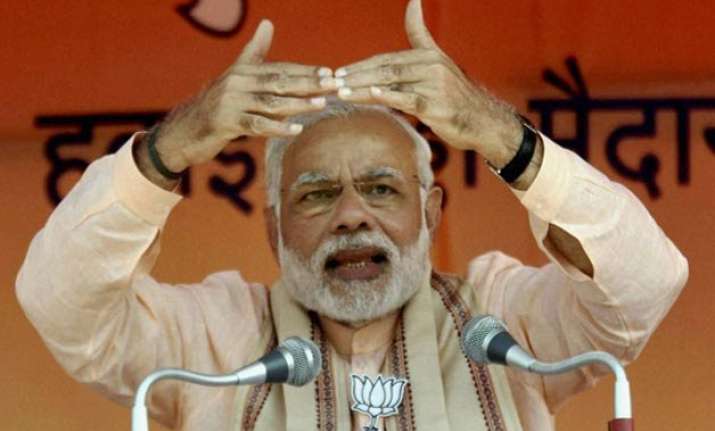 Patna: RJD today complained to the Election Commission against Prime Minister Narendra Modi for his 'shaitan'(devil) remark directed at its chief Lalu Prasad, who retorted sharply calling him a "Brahma Pishach" (super demon).
In a complaint submitted to Bihar's Chief Electoral Officer Ajay Nayak, the RJD accused Modi of using "disparaging and insulting" language against its party chief and Yadav caste and urged the poll panel not to allow him to address further rallies in the poll-bound state.
Separately, Prasad said, "If I am a 'shaitan', he is a 'Brahma Pishach' (powerful demon spirit as described in ancient Hindu texts).
"I would tell people of the state about PM's 'shaitan' remark against me," Prasad told reporters in a bid to link the controversy with the pride of the state and more particularly that of the backward castes.
The RJD chief in his tweets also launched a counter attack at Modi citing the Gujarat riots when he was the chief minister, saying, "Ask those giving sermon to others which 'shaitan' rode on him in Gujarat in 2002? At that time the 'Atma' (heart) of (former prime minister) Atal Bihari Vajpayee had cried for him not following 'Raj Dharma'."
The RJD chief also dared Modi for an open political debate.
At a poll rally in Bihar yesterday, Modi trashed Prasad's explanation that he had made the "Hindus eat only beef" remark--that had triggered a controversy-- under the influence of "shaitan" (devil).
"I wonder the devil got only his (Lalu) body to enter. I want to know how the shaitan got the address (of Lalu). The devil got no other body in entire Bihar, India and the whole world except that of his. And he also welcomed the devil as if some relative has come," Modi said.
RJD national spokesman Manoj Jha and his Bihar state counterpart Chitranjan Gagan in their complaint drew EC's attention to Modi's remark, "Hamara mukabala Shaitan se" (now our political contest is with devil)".
The complaint dated October 9 is addressed to the Chief Election Commissioner of India through Chief Electoral Officer, Bihar.
It alleged that PM used "disparaging and insulting" remarks against RJD chief in his several political rallies in Bihar yesterday by "deliberately fabricating rumour and baseless" allegation against him.
Besides, he also went on not only to brazenly appeal to a particular caste but used provocative language for Yadavanshis/Yadavs thus violating the Model Code of Conduct, it said.
"These inflammatory and insulting speeches made by the PM also blatantly violates Article 153 of the IPC which amounts to promoting enmity between different groups on grounds of religion, race, place of birth, residence, language etc and doing acts prejudicial to maintenance of harmony," the complaint alleged.