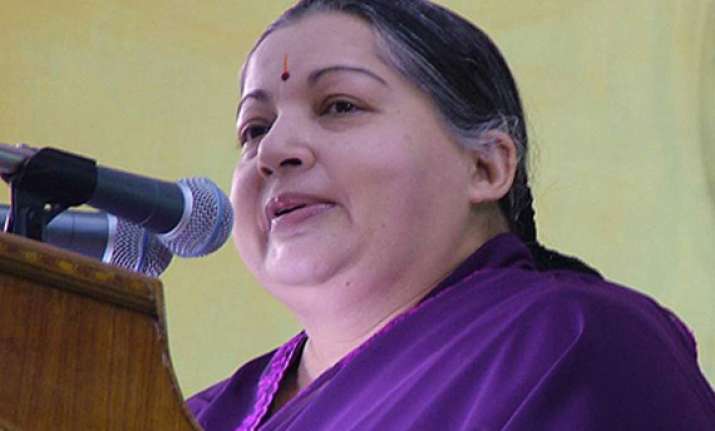 Chennai: Expressing partial satisfaction on the amendments made in the National Food Security Bill, Tamil Nadu Chief Minister J. Jayalalithaa urged the centre to address other outstanding issues so the nation is assured of food security.
In letter sent a day ago to Prime Minister Manmohan Singh, the text of which was released to the media Sunday, Jayalalithaa said: "While some of the key issues have been addressed in the first set of amendments proposed, there are still some outstanding issues which would require to be addressed before the present National Food Security Bill truly assures food security to the nation and in particular to Tamil Nadu."
She said the centre has agreed to her request that the bill should ensure that the present allocation of food grains to the state under the public distribution system is not reduced, by adding a provisio to that effect.
"However, the newly introduced proviso leaves the fixation of the issue price to the discretion of the central government. In the event that the issue price is fixed at the economic cost of rice, this would place an additional huge financial burden of around Rs.1,000 crore on the government of Tamil Nadu," she said.
Jayalalithaa urged Singh to provide a legally binding assurance that the difference in quantity between what has been assured through the newly introduced second proviso to Clause 3(1) and what is eligible under Clause 3(1) read with Clause 3(2) will be supplied to the states at the price of Rs.3/kg or at least at the current price applicable for above poverty line families of Rs.8.30/kg.
"I reiterate my earlier request to increase the urban coverage to 100 percent or at least 75 percent of the population on par with rural areas," Jayalalithaa said.
Jayalalithaa said a provision to obligate the centre to import food in times of scarcity is very crucial to make this legislation truly a Food Security Act.
Referring to the provision in the bill that enables the centre to introduce cash transfer and food coupon schemes, Jayalalithaa said the provision should be amended, to indicate that the state government's concurrence for such schemes is necessary.