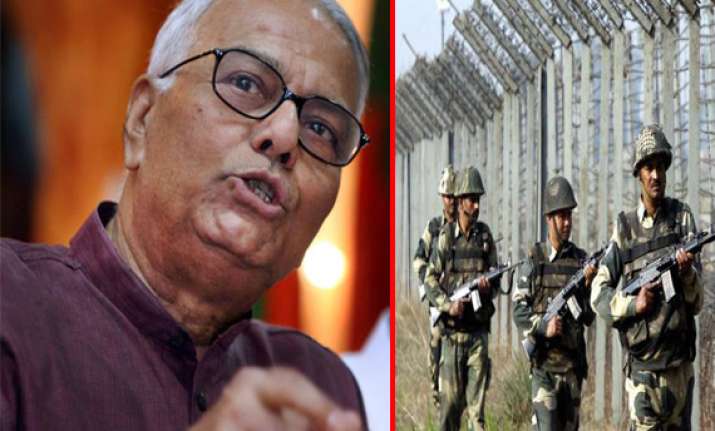 New Delhi, Aug 6: A furious senior BJP leader Yashwant Sinha, egged on by his party members, today demanded in the Lok Sabha that India should reply to Pakistan in the same language, after Monday night's barbaric killing of an Army subedar and four jawans near the Line of Control in Chakhan Da Bagh, Kashmir.
Describing the killings of five jawans as "very disturbing", Sinha recalled how two Indian jawans were killed in January by Pak soldiers, and one of their heads taken away by the assailants.
Amidst shouts of "shame, shame" from BJP benches, Sinha, during Zero Hour, said, Pakistan has consistently been aggressive in its posturing towards India.
"The most unfortunate part is that our Army has been made to appear as incapable of replying. Farooq saheb (Farooq Abdullah) has rightly asked why our army appears to be incapable. Why can't India reply to Pakistan in the same language", said Sinha, a former External Affairs and Finance Minister in the NDA regime.
As Congress members rose in protest, BJP members took stood up from their benches to join the pandemonium.  "I want to know with whom the Congress party appears to be: with India or with Pakistan?  Congress ka haath, kiskey saath?".
This further infuriated the Congress members, with party chief Sonia Gandhi listening silently.
"The whole nation is perturbed over these killings, and our Prime Minister is not here inside the House", said Sinha.
Speaker Meira Kumar adjourned the House till 2 pm as pandemonium continued.
Earlier, Samajwadi Party leader Mulayam Singh Yadav cautioned the government to be aware about the "designs" of both China and Pakistan.
"China had betrayed India by attacking us in 1962, and their soldiers are still violating the Line of Actual Control. Remember, the Chinese perfidy broke down Pandit Nehru and he died two years later", said Mulayam Singh Yadav, as Sonia Gandhi sat listening silently.
"When the Pakistani terrorist leader (Hafiz Saeed) inspected the Line of Control on the Pakistani said, we should have been alert. How long should we sit and watch their soldiers kill our jawans", asked Mulayam Singh Yadav.