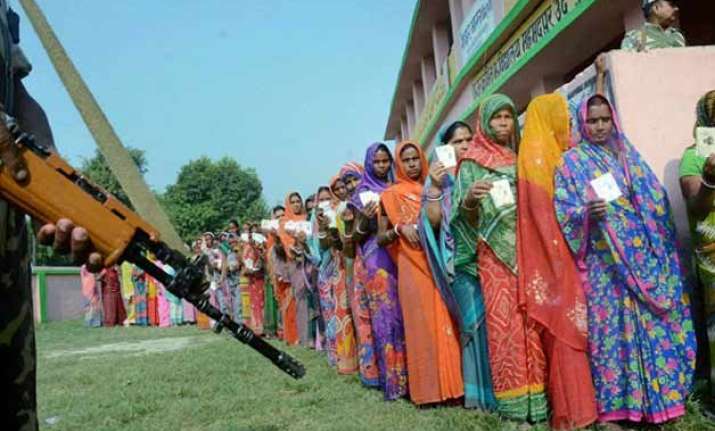 New Delhi: Bihar today witnessed a record voter turnout of 57 per cent. It is way higher compared to voter turnout in 2009 Lok Sabha elections (44.08 per cent), 2010 Assembly elections (50.85 per cent) and even  2014 Lok Sabha elections (55 per cent) when Modi wave was palpable in every nook and corner of the state.
What does this record voter turnout suggest?
If one goes by the thumb rule of psephology then a higher voter turnout, generally, is not considered a good news for the incumbent regime because it's seen as the manifestation of electorate's disenchantment with the government of the day.  But this is just a thumb rule which has been proved wrong many times. When the incumbent government is hugely popular then people also come out in large numbers to express solidarity with their leader.
2015 Bihar Assembly elections are interesting because both the ruling alliance and the principal opposition will have to cope with anti-incumbency factor. If Nitish Kumar has to face anti-incumbency of 10 years in the state then Narendra Modi-led NDA also has an anti-incumbency of 15 months at the centre.
The higher voter turnout has only heightened the curiosity over which formation is facing the bigger anti-incumbency.
The ruling JD(U) has the maximum stake in today's elections as it had won 29 of these 49 seats in 2010 Assembly elections. It's a different matter that last time, they were in alliance with BJP which is now eager to rule the state with a new alliance.
In first phase, JD(U) is contesting 24 of the 49 seats that went to polls today. RJD is contesting 17 while Congress is contesting 8. The success of grand-alliance depends on whether Lalu Prasad will be able to transfer his votes to JD(U) and Congress.
This is because Yadavas, Lalu's own caste men, will play a big role in deciding the fate of grand-alliance and the younger generation of this section, according to political analysts, has developed a likening for Narendra Modi primarily because of his rhetorical focus on development as his political agenda .
It remains to be seen whether this affinity for Modi  translates into votes in these Assembly elections or not.  After all, Modi is the not the CM candidate and Voters are well aware of this fact.
In this phase, the BJP is contesting 27 seats.  Ram Vilas Paswan's LJP is contesting 13 seats while Manjhi's HAM and Kushwaha's RLSP are contesting the remaining 9 seats.
Political commentators believe that the present caste combination appears to be favouring BJP-led alliance but a lot would defend on whether BJP succeeds in motivating its voters to come out of their homes in large numbers to cast their votes.
The hype generated by Modi before 2014 Lok Sabha elections has subsided and people across the country are debating what he has delivered in last 15 months.
Obviously, in an Assembly election, it's the state government that seeks the mandate on the basis of its performance and clearly Nitish Kumar has to answer on this count.
At this stage, what we can say is that the huge voter turnout has made the contest even more interesting and hopefully this will inspire voters to maintain this trend in next 4 phases. This will be a victory for democracy irrespective of who forms the new government.