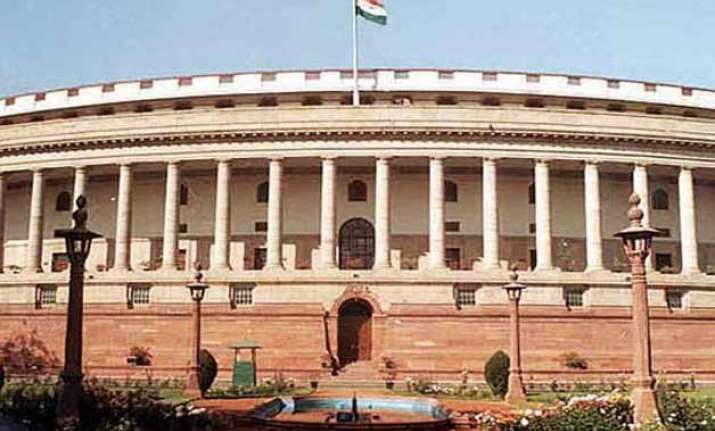 New Delhi: Government on Friday said it is ready to hold talks with the Congress to break the Parliamentary deadlock and a meeting in this regard will be held soon, a day after an all-party meeting called by the Lok Sabha Speaker failed to end the ongoing impasse.
The Government had indicated convening an all-party meeting to end the impasse in Parliament during the all-party meet Wednesday.
"All parties had agreed yesterday during the all-party meeting convened by the Speaker that Government should take the initiative (in running Parliament). Government had planned to talk to Congress today morning, but due to the CPP meeting Congress leaders were not free. We will talk to them soon when Congress members are free," Union Minister Rajiv Pratap Rudy said.
He, however, said that it was a matter of concern when Congress members were not wanting to discuss even the issue of national security when Union Home Minister Rajnath Singh was giving a statement on the Gurdaspur terror attack.
The Opposition has been asking for resignations of External Affairs Minister Sushma Swaraj and Madhya Pradesh and Rajasthan chief ministers Shivraj Singh Chouhan and Vasundhara Raje since the Modigate issue surfaced.
Congress leader in Lok Sabha Mallikarjun Kharge said his party wants resignation of all involved in the Modigate. He said that the tradition of demanding resignation was set by BJP when they were in opposition.
"Till there is no resignation, there will be no discussion. This is our demand," he said, adding that they were trying to convince the government on this which was not agreeing.
"It is the government's responsibility to run Parliament. This is not the first time this is happening. Earlier BJP had set this tradition of demanding resignation for everything and today they are saying Congress is trying to create hurdles. All know this is far from truth. That is why they are putting the blame on us. This is not right," Kharge said.
Congress has stalled both the Houses of Parliament and no serious business has taken place during the ongoing Monsoon session which started on July 21. Many important legislations like the Land Bill, GST bill and Real Estate Bill are pending for passage. 
Another Union Minister Mukhtar Abbas Naqvi, however, blamed Congress for trying to stall the country's growth and progress by not allowing Parliament to function.
"Unfortunately, Congress is trying to politically stall the country's progress and stands exposed now. The way Congress is behaving, it is clear that it is not ready to see or accept the ground realities.
 While Home Minister was making a statement on Gurdaspur terrorist incident, Congress was raising slogans against the Prime Minister. This is height of political bankruptcy. Their political propaganda stands exposed. Congress should do some introspection. We want Parliament to function and we are trying," he said.