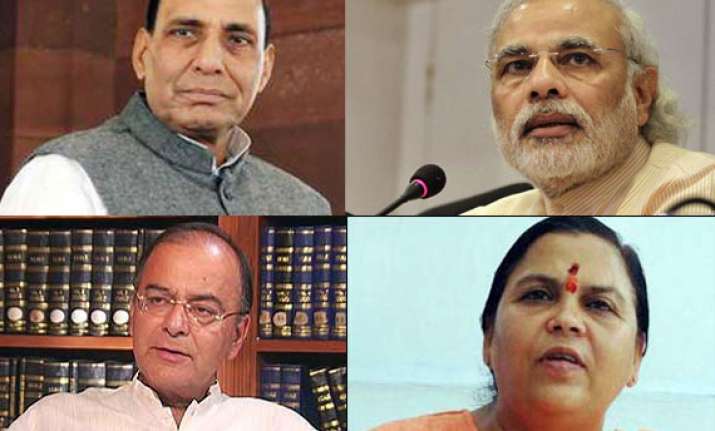 New Delhi: The Bharatiya Janata Party on Saturday night released its latest list of candidates for the Lok Sabha elections with Narendra Modi contesting from Varanasi, Dr M M Joshi from Kanpur, Rajnath Singh From Lucknow, Uma Bharti from Jhansi and Arun Jaitley from Amritsar.
Bollywood actor Kirron Kher will contest from Chandigarh, Shatrughan Sinha will contest again from Patna Sahib, while Meenakshi Lekhi will contest from New Delhi.
Dalit leader Udit Raj will be the BJP candidate from North West Delhi, while Delhi BJP chief Dr Harsh Vardhan will take on Kapil Sibal in Chandni Chowk.
Following is the full list of BJP candidates:
Assam: Kaliabor : Mrinal Kumar Saikia
Bihar
Maharajganj : Janardan Singh Sigriwal MLA
Patna Sahib : Shatrughan Sinha MP
Haryana
Ambala SC : Ratan Lal Kahariya Ex-MP
Kurukshetra : Raj Kumar Saini
Sonipat : Ramesh Kaushik
Rohtak : Om Prakash Dhankhad (president, Kisan Morcha)
Bhiwani-Mahendragarhj : Dharamveer
Gurgaon : Rao Indrajeet Singh MP
Faridabad : Krishnapal Gurjar MLA
Odisha
Keonjhar ST : Anant Nayak Ex-MP
Kandhamal : Sukanta Panigrahi
Aska : Mahesh Mohanty
Berhampur : Ram Chandra Panda ex-Deputy Speaker
Punjab
Amritsar : Arun Jaitley
Hoshiarpur SC : Vijay Sampla
Uttar Pradesh
Saharanpur : Raghav Lakhanpal  MLA
Kairana ; Hukum Singh   MLA
Muzaffarnagar : Dr Sanjeev Balyan
Bijnor : Rajendra Singh  Advocate
Moradabad : Kunwar Sarvesh Singh MLA
Rampur : Dr Naipal Singh MLA
Meerut : Rajendra Aggarwal  MP
Baghpat : Dr Satpal Singh  Ex-Mumbai Police chief
Gautam Budh Nagar : Dr Mahesh Sharma MLA
Bulandshahr SC :  Dr Bhola Singh
Aligarh : Satish Gautam
Agra SC : Prof Ramshankar Katheriya MP
Firozabad : S P Singh Baghel  MP
Mainpuri : B S S Chouhan
Etah : Rajveer Singh ex-MLA
Aonla : Dharmendra Kashyap  ex-MLA
Bareilly : Santosh Gangwar  ex-MP
Pilibhit : Smt Maneka Gandhi MP
Kheri : Ajay Mishra 'Taini'  MLA
Sitapur : Rajesh Verma  ex-MP
Hardoi SC : Anshul Verma
Misrikh SC : Smt Anju Bala
Unnao : Harisakshi Maharaj  ex-MP
Mohanlalganj SC : Kaushal Kishore  ex-MLA
Lucknow:   Rajnath Singh,  BJP president
Sultanpur : Varun Gandhi MP
Farrukhabad : Mukesh Rajput
Etawah SC : Ashok Dohre ex-MLA
Kannauj : Subrat Pathak
Kanpur : Dr Murli Manohar Joshi  MP
Jhansi : Sadhvi Uma Bharti  MLA
Fatehpur : Sadhvi Niranjan Jyoti  MLA
Kaushambi SC : Vinod Sonkar
Barabanki SC :  Smt Priyanka Rawat
Faizabad : Lallu Singh  ex-MLA
Bahraich SC : Savitribai Phule  MLA
Shrawasti:   Daddan Mishra  ex-MLA
Basti : Harish Dwivedi
Maharajganj : Pankaj Chaudhary Ex-MP
Gorakhpur : Yogi Aditya Nath  MP
Deoria  Kalraj Mishra  MLA
Bansgaon SC : Kamlesh Paswan  MP
Lalganj SC : Smt Neelam Sonkar
Azamgarh :  Ramakant Yadav  MP
Ghosi : Harinarayan Rajbhar
Salempur : Ravindra Kushwaha
Ballia : Bharat Singh  ex-MLA
Jaunpur : K P Singh
Machhlishahr SC : Ramcharitra Nishad
Chandauli : Mahendranath Pandey  ex-MLA
Varanasi : Narendra Modi,   Gujarat CM
Bhadohi : Virendra Singh Mast
Robertsganj SC :  Chhote Lal Khairwar
Chhattisgarh
Sarguja ST : Kamalbhan Singh
Raigarh ST : Vishnudev Sai  MP
Janjgir-Champa SC : Smt Kamla Patle  MP
Korba : Dr Banshilal Mahato
Bilaspur : Lakhanlal Sau
Rajnandgaon : Abhishek Singh
Durg : Ms. Saroj Pandey MP
Raipur : Ramesh Bais  MP
Mahasamund : Chandulal Sahu  MP
Bastar ST : Dinesh Kashyap  MP
Kanker ST :  Vikram Usendi
Uttarakhand
Tehri Garhwal : Maharani Smt Raj Laxmi  MP
Garhwal : Retd Maj Gen B C Khanduri ex-CM
Almora SC : Ajay Tamta
Nanital-Udhamsingh Nagar : Bhagat Singh Koshiyari  MP
Haridwar : Dr Ramesh Pokhriyal Nishank MLA
Chandigarh :  Kirron Kher
Delhi
Chandni Chowk :  Dr Harsh Vardhan
North East Delhi : Manoj Tiwari  (Bhojpuri singer)
East Delhi : Mahesh Giri
New Delhi : Meenakshi Lekhi
North West Delhi  (SC):  Udit Raj
West Delhi : Parvesh Verma
South Delhi : Ramesh Bidhuri