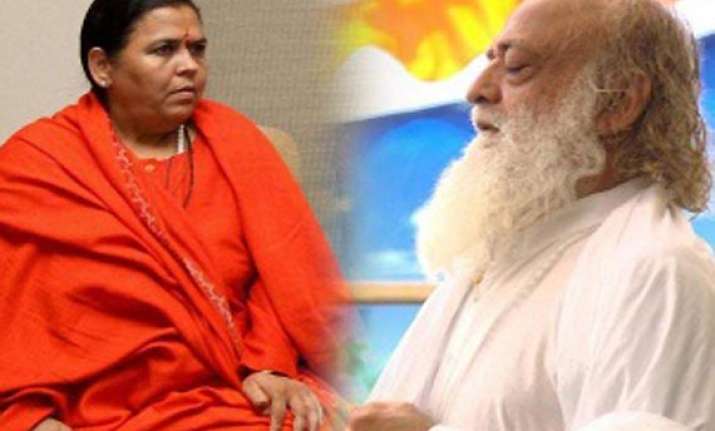 Bhopal: BJP vice president Uma Bharti today said that rape charge levelled by a teenage girl against Asaram Bapu could be "politically motivated" one as he had been critical of top Congress leadership.
"Asaram used to criticise in a bold manner Congress president Sonia Gandhi and vice president Rahul Gandhi, and in both Rajasthan and Delhi, Congress is in power. I have a feeling that there might be some political motive behind the issue," Bharti told a hurriedly called press conference at her residence.
The controversial self-styled godman was booked by Delhi Police two days back for allegedly sexually assaulting a 16-year-old girl in a Jodhpur Ashram recently.
Spokesperson of Asaram Bapu's Ashram has already denied the charge.
"Though I have full sympathies with the victim and if found true, I would be first person to punish Bapu. You know in Jayendra Saraswathi case how he became the victim of political conspiracy," Bharti said.
She was referring to two different murder cases that were filed against Kanchi Kamakoti Peeth Shankracharya Sri Jayendra Saraswathi in 2002 and 2004.
The senior BJP leader said Asaram had told her that he was innocent and would prove so.
Bharti said she was ready to meet the girl and discuss the matter with her in private if her parents allow her to do so.
"I came forward because in Jayendra Saraswati case nothing was proved and ultimately the complainant withdrew the charge against him," she said.
The Kamla Market police who registered case against the 74-year-old self-styled godman on the teenage girl's complaint have transferred the case to Jodhpur.