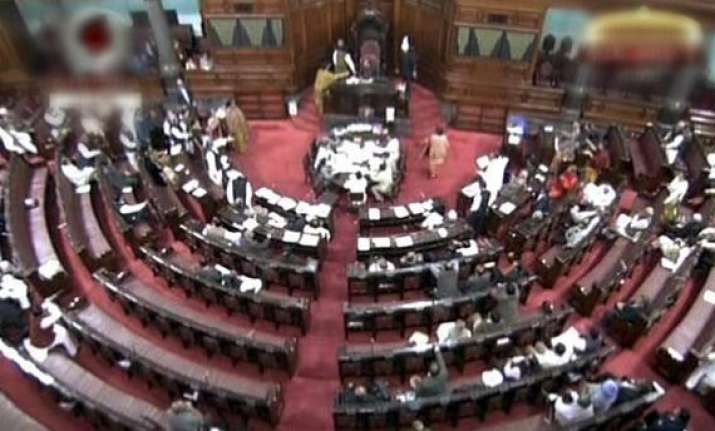 New Delhi, Dec 18: The Rajya Sabha was disrupted Tuesday with opposition members seeking a statement from Home Minister Sushilkumar Shinde on the gang-rape of a 23-year-old girl in a moving bus in Delhi.
The issue was taken up as soon as the house met for the day at 11 a.m. with Bharatiya Janata Party (BJP) members Maya Singh, M. Venkaiah Naidu and others on their feet condemning the incident.
"The national capital is totally unsafe for women. The home minister should explain," Maya Singh said.
Amid the ruckus, Chairman Hamid Ansari adjourned the house for 15 minutes.
When the house met again, opposition members continued to protest.
Ansari urged members not to politicise the issue.
"Don't make it a party issue... it's a human issue," he said.
Minister of State for Parliamentary Affairs Rajeev Shukla also assured the members that the home minister would issue a statement.
Opposition members, however, refused to be pacified.
"The question hour is adjourned on political issues, not when it comes to women's issues," Samajwadi Party MP Jaya Bachchan said.
BJP's Ram Jethmalani went ahead and demanded the removal of Delhi Police Commissioner Neeraj Kumar.
"The crime situation in Delhi will not improve till you remove the biggest criminal... that criminal happens to be police commissioner of Delhi," he alleged.
Amid the din, the chairman then adjourned the house till noon.
The brutal rape and torture occurred Sunday night when the girl and her male friend boarded a private bus at Munirka to go to Dwarka after watching a movie. She is battling for life in a hospital.
The couple was thrown off the bus near Mahipalpur. The male friend was taken to Safdarjung but discharged after treatment for his injuries Monday.