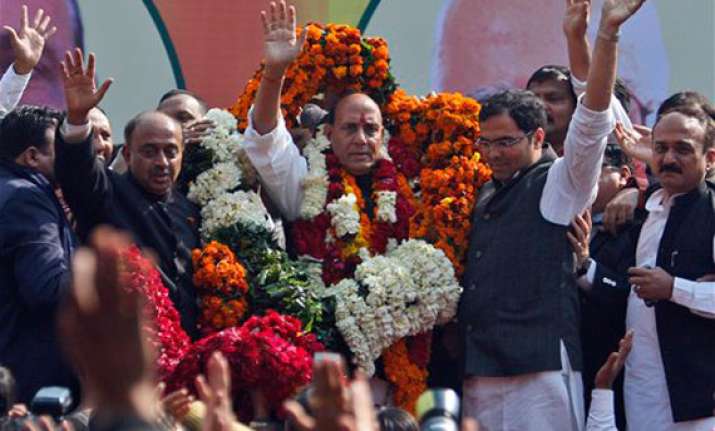 New Delhi, Jan 23: Pitchforked by circumstances, senior BJP leader Rajnath Singh was today unanimously elected party president but he faces the immediate challenge of tackling internal feuds and repairing the damage caused by allegations of financial impropriety by his predecessor Nitin Gadkari.
The election of the 61-year-old former Chief Minister of Uttar Pradesh, who comes back to the post which he had to quit in the wake of 2009 electoral debacle, took a little over an hour.
But the entire process had the underpinnings of the controversy that surrounded Gadkari over his alleged involvement in an irrigation scam in Maharashtra and the dubious funding of his Purti Group.
The situation in which Singh's choice came about was underscored by senior leader L K Advani who said the new president's biggest responsibility would be to ensure that "there is no compromise with any immoral behaviour". 
Advani, whose opposition to Gadkari finally saw him out of the president's post despite RSS backing, also said, "We should prove that this is a party with a difference and not a party of differences as our opponents say."
Gadkari, who opted out of the presidential race yesterday in a dramatic turn of events because of the allegations against him, had succeeded Singh in 2009 after the Lok Sabha election debacle.
After the top leadership deciding on Singh last night, the BJP Parliamentary Board met this morning in what was essentially a formality to approve Singh's candidature for the top party post.
Singh filed his nomination and was the only candidate in the fray. He was promptly declared elected without any contest. Had Gadkari contested there was a possibility of an election.
Noting that the circumstances in which he is taking over the party's presidentship are not good, Rajnath Singh said BJP will stand behind Gadkari in his fight to clear his name of all charges.
He said the party was looking forward to Gadkari leading it for a second term and lauded him for taking a moral high ground by deciding not to contest till his name was cleared.  He added that no one could question Gadkari's integrity. 
"We all wanted him to be elected as party president again and we amended the Constitution also. But the way baseless allegations were levelled against him, he said he would resign and not hold any post till his name is cleared. You are not alone, the whole BJP stands united behind you," said Singh. 
Advani also lauded Gadkari for frustrating BJP's opponents in politics and media by not giving them a chance to speak against the party.