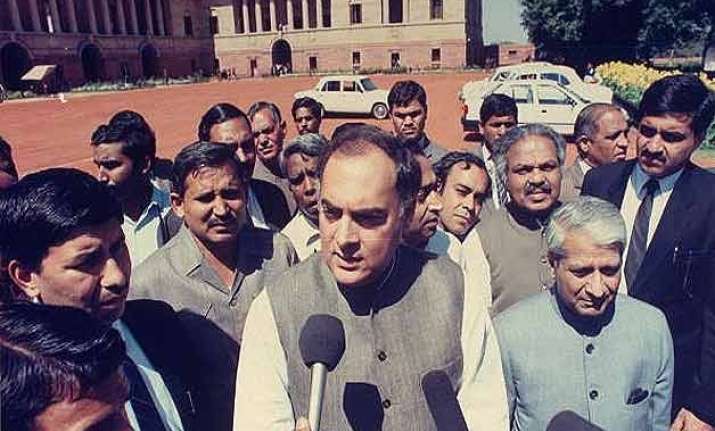 New Delhi:  At a time when the reports of political espionage on Congress Vice President is making rounds it was exactly twenty four years ago when the Congress Party had to encounter one such similar incident.
Congress which was supporting Samajwadi Janta Party (Rashtriya) a 50-odd member breakaway of the Janata Dal  which was led by Chandra Shekhar  who was the then Prime Minister of India had to lose his chair barely after four months of becoming the PM .
The matter involved policemen, that too from state of Haryana who were arrested on the charges of 'snooping' outside Rajiv Gandhi's house at 10 Janpath.
They admitted being part of Haryana state CID in plain clothes, and were there to gather information. According to some accounts, they were spotted sipping tea outside the residence.
This incident led to a big political storm where Rajiv Gandhi was pretty much displeased with Chandra Shekhar  so much so that he even did not take calls from him.Later the  party withdrew support from Chandra Shekhar's government. PM Chandra Shekhar was forced to announce his resignation on March 6, 1991.
Some contemporary accounts claim that it was Ranjit Singh, the estranged brother of the then Haryana CM Om Prakash Chautala, who informed Rajiv about the 'snooping' having been authorised by the then Haryana home minister Sampat Singh .
Moreover, the so called snooping incident was carried out  at a critical juncture of Indian politics when indeed Rajiv Gandhi had a reason to believe.
There was a security threat to Rajiv from Kashmiri and Sikh militants and also from Tamil groups. Some say that his mother's assassination by security guards were also a reason why snooping policemen were seen as a serious security issue by Rajiv and his advisors.
The Haryana policemen can be said to have activated a string of incidents with effects nobody could have predicted. Rajiv Gandhi's assassination happened mid-campaign and eventually, the Congress party getting  re-elected, with P V Narasimha becoming the Prime Minister of India.