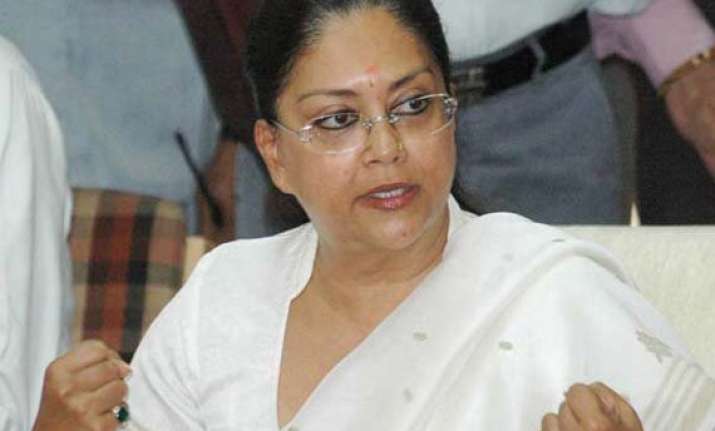 Jaipur: A slew of projects were announced by the Vasundhara Raje government in Rajasthan at a function Saturday to mark its first year in office.
Chief Minister Raje, union Road Transport and Highways Minister Nitin Gadkari and union Power Ministry made several announcements for development of Rajasthan while addressing a public rally at Janpath near the state assembly here.
Highlighting development work undertaken by the government in the last one year, Raje said that solar park with capacity of 700 MW would be set-up at Badla (Jodhpur) under Phase-II soon.
"Two solar parks of 1,000 MW capacity - each in joint venture - at Badla under Phase-III and in Jaisalmer would also be set up," she said.
The state government also plans to interlink rivers to be and would come out with new act to constitute River Basin Authority.
Gadkari said that a dry port would be set up in Rajasthan to work as a satellite port, while all work on Delhi-Jaipur Highway will be completed till June 2015.
Goyal promised that the union government would give a Rs.5,000 crore grant and a Rs.5,000 crore loan during the next three years to improve power sector in the state.
"Grant of Rs.183 crore will also be made by the central government for upgradation of power sub-stations," he added.
Raje government went all out to celebrate its one year in office in a big and lavish way.
Bharatiya Janata Party state unit chief Ashok Parnami said that the main focus of the function was to inform people of the state about the development work that Raje government has undertaken in the last one year since it came to power.
"Our motto is prosperity for all, development for all," he said.
Meanwhile, Sachin Pilot, the state president of the Congress has castigated the BJP government in the state for organizing such a big function.
"If this (BJP) government had done some work, then people would have celebrated one year of the government on its own and not the party," he said in a statement.
Pilot said that during the one year of BJP, there has been an increase in unemployment, corruption and crime. He said that the promises in the BJP manifesto were only made to grab power.