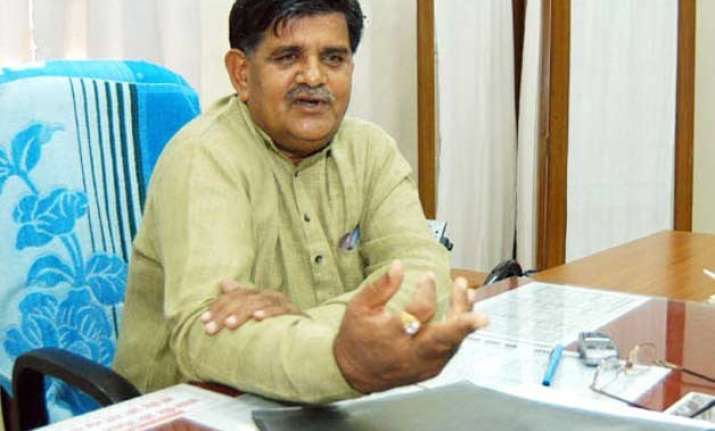 Jaipur: Rajasthan Home Minister Gulab Chand Kataria has invited severe criticism for his 'irresponsible' remarks on serious issue of farmers suicide. The minister on Thursday said that farmers who committed suicides would not be entitled for any relief or compensation under the government's Calamity and Relief Fund (CRF).
Kataria, who is also in charge of the state's Calamity and Relief Ministry, was replying to Congress MLA Ramesh Meena in the state assembly when he said: "Farmers who hang themselves from trees cannot be taken in to account for compensation by the government.''
Minister's remark invited ire from opposition parties who accused him of being insensitive towards the plight of farmers.
Terming the relief measures of the Rajasthan government as discriminatory , Pradesh Congress president Sachin Pilot said, "The government needs to be more sensitive towards the plight of the farmers whose crops have been damaged in the recent untimely rain and hail storm. Many farmers died of shock while some have committed suicide due to their inability to repay loans.''
Pilot also sought six months free electricity and  loan waiver for the farmers in the wake of recent disaster.
Expressing his concern over the issue former chief minister Ashok Gehlot on Sunday tweeted, "State government needs to take the situation of farmers very seriously. They must be provided immediate relief as its already too late'' and "the farmers have been doomed due to heavy rain. It has already taken 37 farmers lives. The State government has failed to give compensation yet.''
Kataria further said Collectors had been empowered and provided with funds to provide compensation to farmers whose more than 50 per cent crops had been destroyed in the rains. Also, they would get job under the Mahatma Gandhi National Rural Employment Guarantee Act (MGNREGA).