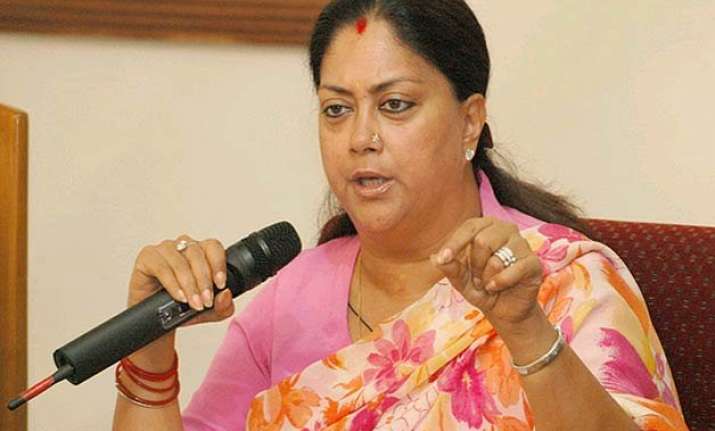 Jaipur: The annual budget of Rajasthan presented by Chief Minister Vasundhara Raje today evoked mix reactions with the ruling BJP and industries bodies welcoming it and Opposition Congress and other parties dubbing it disappointing.
BJP state president and MLA Ashok Parnami said it will generate new employment opportunities, attract investment and connect missing links of the economy.
"Revolutionary proposals have been made in the areas of agriculture, irrigation and for availability of fertilisers. The budget reflects Chief Minister's sensitivity towards the farmer," Parnami said, adding that it focuses on all sections of the society.
Congress dubbed the budget as disappointing and inflationary, with its state unit president Sachin Pilot saying that Raje, in the budget speech, tried to conceal her failure in fulfilling previous budget announcements.
"No provision has been made to bring down inflation. There is no mention of government jobs to youths. Instead of jobs, the CM is talking about opportunities, which is misleading," Pilot said.
CPI(M) called the budget "a bundle of hollow announcements." CPI(M) state secretary Amra Ram said the budget was disappointing, anti-farmer and anti-labour, and focused on industrialists and capitalists.
Bhartiya Mazdoor Sangh also criticised the budget saying there was no provision to deal with the issue of social security for labourers in unorganised sectors.
PHD Chamber of Commerce and Industry termed the budget as progress-oriented aimed at improving the environment for industrial development in the state.
"The CM has tried to create investor-friendly climate with emphasis on ease of doing business. Her vision of 'Make in Rajasthan' will create conducive manufacturing environment in the state," G S Singhvi, Chairman of Rajasthan Committee, PHD Chamber of Commerce said.
"The CM has also indicated to control e-commerce business in the state through VAT. It focuses heavily on infrastructure development with special emphasis on road network, power and water," he said.
CUTS International said the budget provisions if implemented on a timely basis, will have positive impact on the growth and economy of the state.
Former chief minister and Congress leader Ashok Gehlot said the state budget was disappointing like the Union Budget.
He said the budget was disappointing for youths and other sections of the society and also that Raje did not mention anything about oil refinery and second phase of Jaipur Metro.
Gehlot alleged that the government has failed to fulfill announcements of the previous budget.