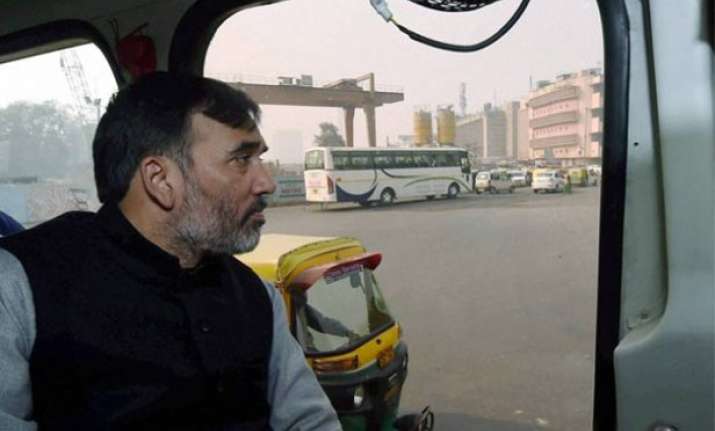 New Delhi: The Delhi government has said it will not extend the 15-day trial period of the odd-even experiment in the city. The clarification from the government came amid speculation that the government was contemplating extending the plan based on its submission in the High Court that it may consider extending the rule.
The Delhi government told the Delhi High Court that it may extend the 15-day odd-even car restriction scheme to curb pollution.
However, Delhi Transport Minister Gopal Rai has clarified that the trial period of the scheme will not be extended beyond the scheduled date if January 15. The minister went on to say that news reports claiming that the scheme may be extend were not true.
"We'll be examining trends and data collected during the trial period after January 15. The trial period won't be extended," he said.
The Aam Aadmi Party government has so far viewed the implementation of the odd-even rule as a major success.
The minister further said that a review of the scheme will be undertaken by the government once the trial is over.
The court had earlier said asked the government to explain why its experiment to ban private cars on alternate days should last more than a week, criticising the city's public transport as "insufficient" and observing that people were inconvenienced.
The High Court, which is hearing a series of petitions related to the odd-even scheme, has reserved its order till Monday.
Earlier on Friday, senior advocate Harish Salve, appearing for the Delhi government defended the scheme saying there is "a definite positive effect" and it "may be continued after this two weeks (planned 15 days) period".
"Delhi's atmosphere has improved. The court heard all our arguments. We are collecting data and will analyse it after the 15th," Rai had said on Friday, adding, "we will decide on extending it after that."
The scheme, which began on January 1, allows even numbered four wheeled vehicles on even numbered dates and vice-versa.
(With inputs from IANS)