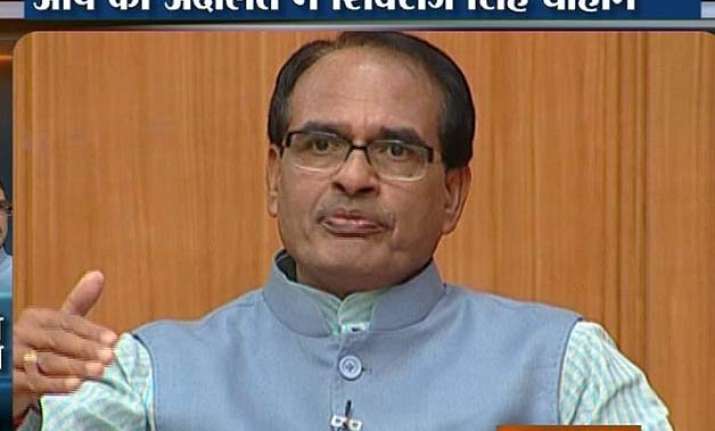 New Delhi:  Madhya Pradesh chief minister Shivraj Singh Chouhan lashed out at Congress leader Rahul Gandhi for describing Prime Minister Modi's government as "suit-boot ki sarkar".
Replying to queries from Rajat Sharma in the show Aap Ki Adalat  telecast last night on India TV, Chouhan said: "Is wearing suit a crime? Is that an issue for national politics? People wear kurta, pyjama, dhoti and suit. He (Rahul) had nothing else (against Modi), so he made the suit-boot sarkar remark."
Defending Modi's land acquisition bill, the Madhya Pradesh CM said, it was wrong to call it 'anti-farmer'.
"People are being misled about this land bill, wrong facts are being placed. There has been no change in compensation amount compared to the UPA bill. Land acquisition (without consent) applies only in four cases like defence projects, housing for poor, basic infrastructure, etc. and even in these cases, one family member will be given job and a part of the developed land", Chouhan said.
The MP CM said : "Modi is a real leader. A leader is one who has a strong will and one who thinks for the nation and the people for long-term benefits. There is no apprehension among farmers in Madhya Pradesh. If there are apprehensions among farmers in and near Delhi about the bill, these will be cleared soon.
"India has got a leader of world stature like Modi after a long time, a leader whom the world respects. They (Congress) are afraid that if Modi stays in power for long, they will be nowhere. That's why this campaign to malign Modi by spreading false allegations", Chouhan said.
Asked by Rajat Sharma whether it was not a fact that senior BJP leader L K Advani had projected him as India's No.1 CM, Chouhan laughed and replied: "Even Modiji, when he was Gujarat CM, had said, I was No.1 CM.  Modiji, myself and several others have got the blessings of Advaniji. "

"Advaniji never said that I was suitable to become PM, nor did I ever dream for this post", he added.Asked why he did not oppose 'sidelining' of Advani to 'margdarshak mandal' by the BJP parliamentary board, Chouhan said: "Atalji, Advaniji are the leaders who built this party. We always go to them whenever we need guidance."
On former BJP leader Arun Shourie's remark about a 'trimurti' (triumvirate) consisting of Modi, Amit Shah and Arun Jaitley ruling the government and the party, Chouhan sought to sidestep the question by saying that the PM even takes chiefministers into confidence by inducting them into NITI Ayog.
He added: "A man like Modiji who has such a wide vision, can never think of a 'murti'  ruling the party. The Parliamentary Board meets and takes key decisions. There is nothing called 'fear of trimurti' inside the party, there is only mutual affection and team spirit."
On queries relating to the infamous Vyapam scam in MP, Chouhan said, it was he who took the initiative to form a Special Task Force to investigate the people behind the exam and recruitment scam.
"So far, nearly 1400 people including former ministers are behind bars. Many influential people has been arrested...During the Congress rule, there was no transparency in recruitment of teachers and policemen. Our government introduced transparency, and it was myself and IG Indore, who got the first whiff of the scam, and then I ordered the setting up of STF."
Chouhan lashed out at Congress president Sonia Gandhi and Rahul Gandhi for projecting themselves as "pro-farmer". "When Manmohan Singh was PM for 10 years, and she was running the government, she never met the farmers in MP. Now suddenly, both Madam and Bhaiyyaji (Rahul) are showing concern about farmers. UPA govt used to give Rs 8000 per hectare compensation, our govt is giving upto Rs 30,000 per hectare compensation.
"During last year alone, MP govt paid Rs 3,300 crore as compensation to farmers, apart from giving Rs 2187 crore under crop insurance scheme. We gave Rs 560 crore as zero-interest loans to farmers. During Congress rule, farm loan was being given on 18 pc interest, our govt reduced it to 9 pc, then 5, then 3, 2 and now zero interest."

Aap Ki Adalat with MP chief minister Shivraj Singh Chouhan will be re-telecast on Sunday (May 10) at 10 am and 10 pm.