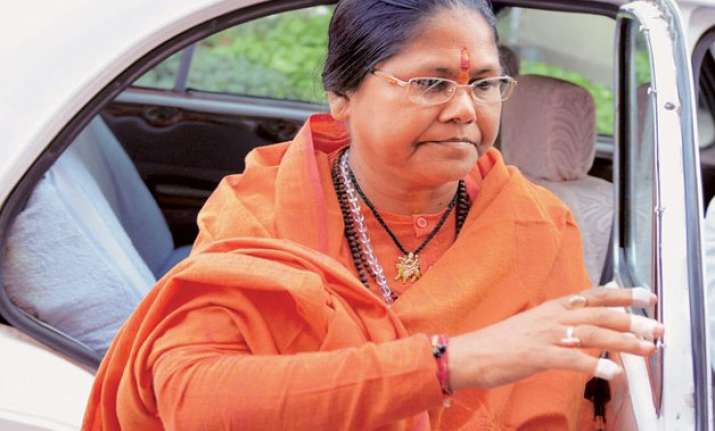 Ahmedabad: Union Minister of State for Food Processing Sadhvi Niranjan Jyoti on Sunday alleged that Congress vice president Rahul Gandhi was misguiding people and farmers by raking up the issue of food park proposed in his constituency to gain political advantage.
"He (Rahul Gandhi) has raked up this issue (of food park in Amethi) now. Had he raised the issue in 2010, it would have been set up," Jyoti told reporters here during a mass contact drive of BJP in Vejalpur area of the city.
"He does not want to set up this (food park). He is not concerned about the country, he only misguides the people of this country," the minister alleged. "Was he sleeping before 2014...whether he did not go to his constituency or what... why did he not do it earlier? I want to ask him these questions straight away," she said.
"Baba Ramdev's food park and yours (Rahul Gandhi's) were conceptualised together. Baba Ramdevji's mega food park has started. Its products are being supplied not only in the country, but in the entire world," said Jyoti.
"Where were you (Rahul Gandhi) sleeping up till now...Did you not avail land...You did not do anything for the food park. So, I want to say that Rahul Gandhi is misguiding the people of this country and he is only using farmers for his political benefit," she further alleged.
"Had the power (of the country) not remained in their (Congress) hands after independence, the condition of farmers and the poor people would not have been so miserable," she said, adding that there are no issues left with Opposition.
"Land had been allotted. Work was very much underway," Rahul had earlier said while alleging that "food park project has been snatched from us as per a well-planned conspiracy". Meanwhile, on her statement about the quality of food provided in the anganwadis, Jyoti said, "Our government is serious about the anganwadis, but distribution is a subject of state governments." 

During a function of PHD Chamber of Commerce in Indore on Friday, Jyoti had alleged that children and women are served food meant for animals in the name of nutritious food at anganwadi centres.