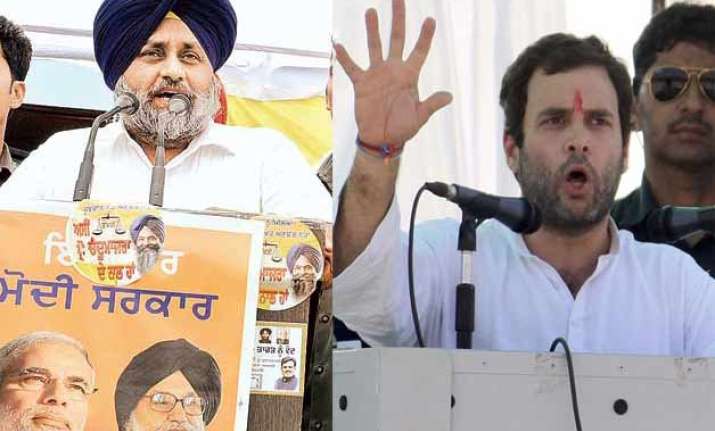 New Delhi: Sukhbir Singh Badal, Deputy Chief Minister of Punjab,  has blamed Congress Vice President Rahul Gandhi for engineering a conspiracy to defame brave Punjabis  as drug addicts and alleged that the  Gandhi family's hatred towards Sikhs has not ended.
Addressing a Dharna against drug problem in the state, the Shiromani Akali Dal president lamented that Punjabis were first labeled as terrorists and now they are being termed as  drug aficionados.
He alleged that all this was started by Congress scion, Rahul Gandhi, who had once stated publicly that 70 percent of Punjab's youth were hooked to drugs.
Sukhbir Badal's statement has come just days before BJP President Amit Shah kicked-off an anti-drug drive in Punjab.
Badal accused  BJP-led states like MP and Rajasthan for  allowing poppy cultivation.
Punjab was "merely a transit point" for drugs smuggled from across the border from Pakistan and Afghanistan.
"These drugs are not meant for Punjab, but for other parts of the country and they come from these neighboring states," said Badal.
"We jailed those who sold drugs. Punjabis do not consume heroin or smack. Had our police not seized the drugs, the youth of other states would have consumed it," he further stated.
Badal also urged PM Modi to  ban cultivation of opium and put aside funds for sealing borders and enhancing surveillance to stop transit of drugs into the country.
He also targeted  Goa by pointing out that the state lodged only 50 cases last year despite being the topmost in drug-dealing. Badal also blamed the rave party culture prevalent in cities like Mumbai and Pune that encouraged drug trafficking.
Brushing aside reports of differences with BJP,  Sukhbir claimed  that the two parties  were on the same page on the issue of drugs.  He also denied reports that PM Modi  had said that 70 percent of Punjab's youth was drug-addicted.
" PM never said this," said Sukhbir Badal.