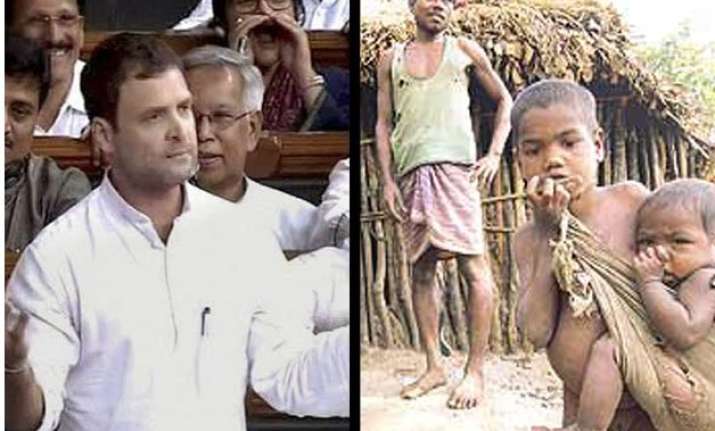 New Delhi : While the Congress vice-president Rahul Gandhi is fighting full fury against the Land Bill in Parliament and outside it, he seems to be oblivion to the woes of the farmers of his own constituency Amethi.
A Mail Today report on Wednesday claimed that the constituency is the poorest in the entire nation. The report states that unseasonal rains and hailstorm have destroyed almost 41,000 hectares of standing wheat crop in the region. The average per capita income of the district has come down to Rs 15,559. This is comparatively very less than the state's average per capita of Rs 26,698 and the country's average per capita of Rs 74,193 (all figures for 2014-15).
The district is suffering from a severe crunch of basic facilities due to the unseasonal rains and hailstorm. Where on an average, it used to produce 23 quintal per hectare of wheat, this year the district is likely to produce only 4-5 quintal per hectare.
Last month even the Congress chief Sonia Gandhi visited Amethi on March 28 to meet the farmers who suffered loss of crop. She assured the ailing farmers that Rahul will be back soon. Some time before this, "Missing MP" posters were also put across the district when Rahul Gandhi was off on his contemplative journey while the farmers were suffering incessantly.
Now, when Rahul has returned, he is being seen in full rage in both Parliament and outside protesting against the land bill. Recently he was heard for good 20 minutes pointing how the 'suit boot wali sarkar' is not doing justice to the farmers.  He is also pointed out how central government have made a grave mistake by hurting the farmers of the country and that they will be hurt in turn later.
Now, news is doing rounds that soon he will be going on a 'padyatra' in MP and Punjab to address the woes of the farmers. He will also seek farmers support against land bill however, his constituency Amethi is likely to wait for him.