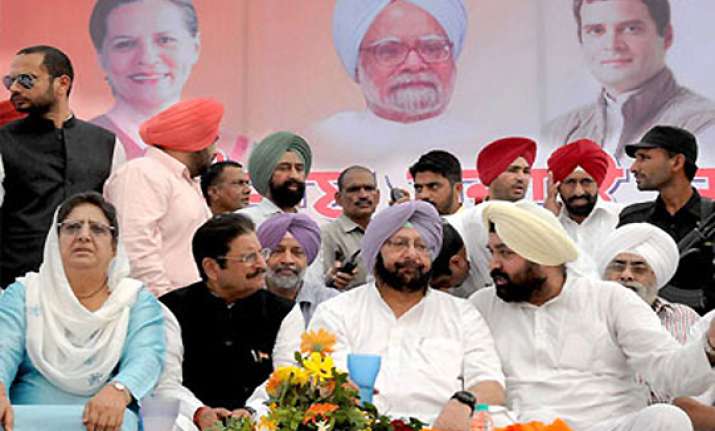 Chandigarh, Apr 14: With some Congress leaders in Punjab batting for removal of PCC chief Amarinder Singh after the party's poor show in assembly polls, 36 party MLAs today asked all party leaders in the state to desist from speaking against one another in public.
They said since the party high command was already seized of the matter they should wait for its decision.
"Instead of targeting our own party leadership, we must take on the (SAD-BJP) government to defend our workers," they said in a joint statement here, according to a party release.
The legislators maintained that going public was against the party interests particularly when it was time to boost the morale of the party rank and file.
They said the high command's decision, whatever that may be, should be acceptable to everyone.
They alleged the Akali-BJP alliance government had already resorted to vendetta and victimisation of the party workers.
"This is the time to stand by the party workers and leave the decisions about the party affairs to the high command," they said.
With civic body elections in Punjab round-the-corner and Lok Sabha polls scheduled to be held in 2014, the MLAs said "we need to focus on the forthcoming elections to the municipal corporations and parliamentary elections and going public on internal party matters only creates confusion and misunderstanding besides demoralising the workers, which must be avoided at all costs."
The signatories to the statement included Laal Singh, Ashwani Sekhri, Tript Rajinder Singh Bajwa, Aruna Chaudhary, Sukh Sarkaria, O P Soni, Rana Gurjeet, Tarlochan Singh Soondh, Gur Iqbal Kaur, Joginder Pal Jain, Jagmohan Singh Kang, Gurkirat Kotli, Amarinder Raja Warring, Kewal Singh Dhillon and Ajaib Singh Bhatti.
While Amarinder's known critic Rajinder Kaur Bhattal and Union Minister Ashwani Kumar have gone on record demanding for change in state party leadership while the Amarinder camp had hit back at them.
Congress could win only on 46 seats in the 117-member assembly failing to wrest power from SAD-BJP combine.