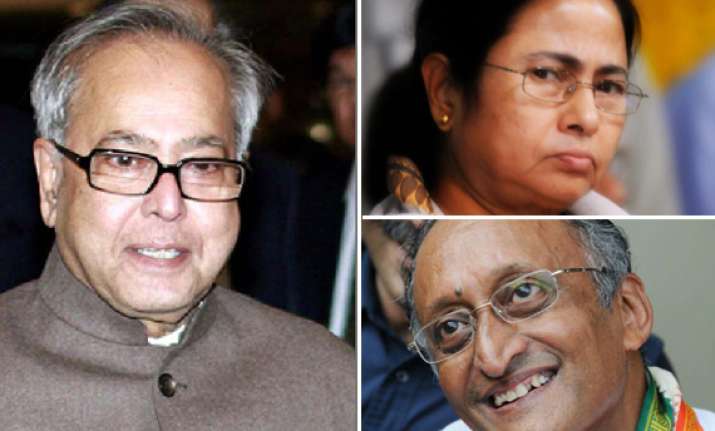 New Delhi, June 12: The Union finance ministry is believed to have offered Bengal a grant-in-aid of Rs 16,000 crore to be paid in three to four tranches over three years instead of a debt servicing moratorium the state has sought, reports the Kolkata newspaper The Telegraph.
The offer was apparently made when Bengal finance minister Amit Mitra met Union finance minister Pranab Mukherjee in Delhi on Monday, the report said.
Mitra, who flew back to Calcutta after the meeting, was tight-lipped on the offer. "Discussions are going on... we will speak to chief minister Mamata Banerjee," he said.
"Discussions are going on…. Discussions will continue…" Mitra added.
Political sources said the talks remained "inconclusive".
"The issue of Bengal is more important for us than who becomes the next President. The Centre unfortunately has kept us waiting," said a Trinamul MP, adding that a clear picture on the package would remove the uncertainty over the presidential elections.
In Calcutta, asked about the Delhi talks, Mamata said: "Routine meeting. Nothing is there. They called to discuss. No… no, I haven't received anything. Without receiving anything, how can I give the details. If I am satisfied, I will tell you. If I am not satisfied, I am not going to say…. I don't think there will be a big jump. Every time we are raising the point and we are coming empty-handed."
Bengal has run up over Rs 2.03 lakh crore in debt and bears an annual interest burden of Rs 22,000 crore.
Sources in Delhi said the Bengal representatives were not too enthused about today's offer. Finance ministry officials, who have been working on the proposal for several months now, said this "was the best we can do".
Meanwhile, West Bengal chief minister Mamata Banerjee is going to have one-to-one discussion with Congress President Sonia Gandhi in Delhi on the presidential poll and Bengal package issues.  Banerjee is expected to arrive in Delhi on Tuesday evening.