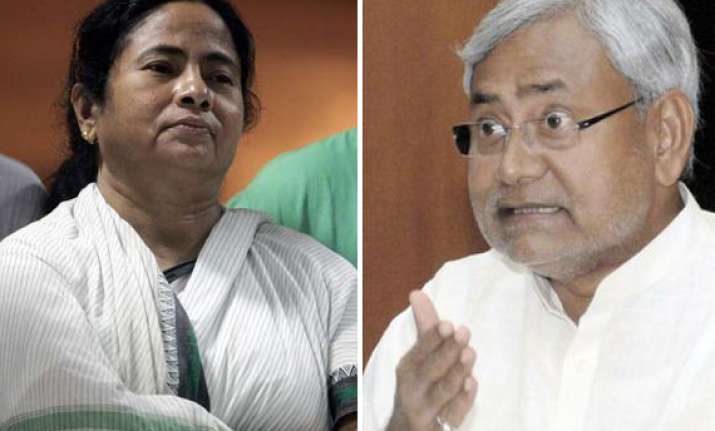 New Delhi, June 20: The ongoing Presidential race has divided parties and alliances across the political spectrum which are facing a piquant situation following revolt by their constituents over the choice of candidate.  
The ruling UPA experienced the most dramatic turn of events with eight-year-old ally Trinamool Congress rejecting the official nominee of the alliance Pranab Mukherjee and backing a candidate in A P J Abdul Kalam, who refused to contest finally.
As Congress is still hopeful of mollifying Banerjee to vote for its nominee, Shakeel Ahmad, AICC in-charge of West Bengal expressed confidence "Mamata Banerjee was our valued ally, Mamata Banerjee is our valued ally and Mamata Banerjee will remain our valued ally".
His comments came days after party general secretary Digvijay Singh slammed Banerjee's "erratic" and "immature" handling of the Presidential election issue.  Samajwadi Party, which is supporting the government from outside, made curious twists and turns by first joining hands with Banerjee in rejecting the UPA nominees and then rallying behind Mukherjee.
Not to be left behind, the NDA camp is also facing similar troubles. Despite a dominant section in the BJP as well as its patron RSS in favour of a contest, ally Shiv Sena declared its support for Pranab Mukherjee while another constituent of the Opposition alliance JD-U stopped short of making its support to UPA nominee public.
On Monday, BJP MP Maneka Gandhi batted for Pranab Mukherjee hailing him as an "excellent candidate" for the post even as BJP is yet to firm a position on either contest or consensus on the Presidential election.
Gandhi said the election of the President should be by a consensus.  An NDA ally leader speaking on condition of anonymity said "there are two views within the BJP, there are many views within the NDA over the President election." While UPA ally Sharad Pawar is canvassing support for Mukherjee, his party leader P S Sangama has jumped into the Presidential fray.
Backed by Biju Janta Dal and AIADMK, Sangama has so far refused to back out despite dismissal threats by the party.  
In an interesting development, a JD-U MP on Tuesday wrote to party President Sharad Yadav slamming him for not proposing his name as Presidential candidate in the meeting of the BJP-led National Democratic Alliance.  
"You are the NDA convenor. Not proposing my name in the (NDA) meeting only sends out the message that the Backward community consists only of Yadavs. Had there been a Yadav candidate, there was a distinct possibility that you would have supported his candidature," Jai Narain Prasad Nishad, Lok Sabha MP from Muzaffarpur said.  Sharad Yadav could not be contacted for his comments.