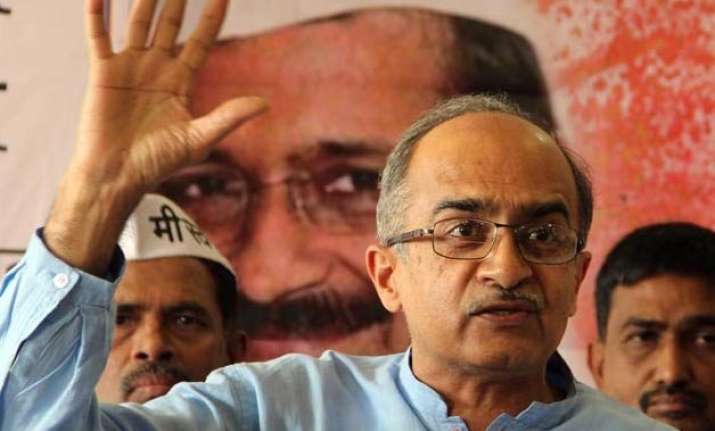 New Delhi: Amid the ongoing rumbling within the AAP, emails sent by Prashant Bhushan to party's PAC last year have surfaced in which he had expressed unhappiness over the process of candidate selection saying he would not be a "rubber stamp" in the party's top decision-making body.
Bhushan along with Yogendra Yadav had been ousted from the party's Political Affairs Committee earlier this month.
In an email conversation in late November last year, Bhushan had said that AAP was so desperate to win the Delhi elections that it was selecting candidates based on their "win-ability" factor.
"I am getting a clear impression that in the desperation to win this election and the narrow view that we are adopting on 'win-ability' of the candidates, we are sacrificing the basic reason for bringing the party into existence.
"I know that we have decided to leave the management of Delhi to Arvind (Kejriwal), but sitting in the PAC to approve candidates, I cannot be a rubber stamp for arbitrary, non-transparent and questionable decisions on candidate selection, without following even minimum norms of transparency and due diligence.
"I am afraid that I will have to disassociate myself from this process and raise this issue within the National Executive on emergency basis unless immediate corrective action is taken. I cannot allow the ideals of this party built with so much effort by us to be sacrificed at the altar of the desperation to win the Delhi election by any cost," Bhushan had written in his email to PAC members on November 28, 2014.
Bhushan's response had come after he had requested to send bio-datas of the candidates on November 27, which were to be discussed in the PAC the next day.
The email conversation reflected the rift within the party, which existed since November last year.
In another email sent by Bhushan and Yadav, the two leaders had questioned the background of four candidates— now party MLAs.
"Both of us are deeply concerned about the rising proportion of political entrepreneurs (property dealers or otherwise rich with non-record of public service who take to politics as career) among the new candidates by the DECG (Delhi Election Committee Group). This can seriously dent our image as our party with an alternative," they said in an email dated December 10, 2014.