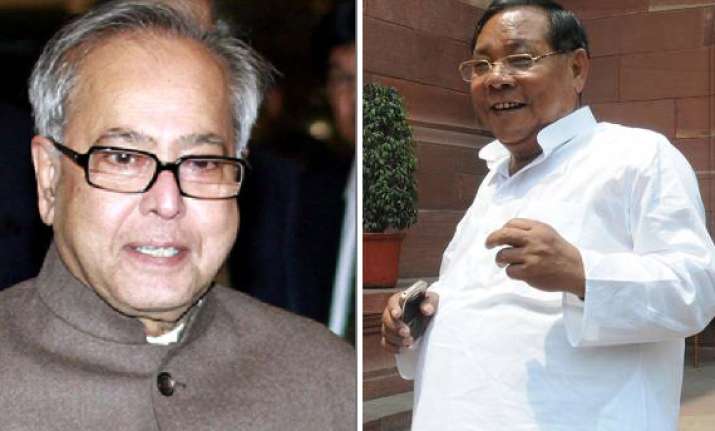 New Delhi, Jun 27: The Presidential race will kickstart on Thursday when both ruling UPA nominee Pranab Mukherjee and opposition BJP-backed candidate P A Sangma file their nominations.
Pranab Mukherjee will file papers at 1100 hrs in the presence of the top brass of the UPA including Prime Minister Manmohan Singh and alliance chairperson and Congress chief Sonia Gandhi.
77-year-old Mukherjee is poised to become the next president admidst indications of an overwhelmingly favourable arithmetic and the election managers of UPA are working overtime to secure record votes for him.
Barring Trinamool Congress, leaders of all UPA constituents are expected to be present on the occasion including Sharad Pawar(NCP), TR Baalu (DMK), Farooq Abdullah(NC) and E Ahmed (IUML), in a move to project a united face of the ruling alliance.
NDA allies JD(U) and Shiv Sena have decided to support Mukherjee.
Pranab Mukherjee is expected to file four sets of nomination papers and NDA Convenor and JD(U) president Sharad Yadav is the first signatory to one such set which also has the signature of defence minister A K Antony.
As regards Sangma, his office said he will be filing nominations on the same day. He is likely to be accompanied by senior BJP leaders, Janata Party President Subramanian Swamy, senior MPs from AIADMK, BJD and SAD, among others.
The 64-year-old tribal Christian leader from Meghalaya, who recently quit NCP to enter the fray, on Tuesday met West Bengal chief minister Mamata Banerjee in Kolkata to solicit TMC support.
However, TMC was non-committal on the issue and there are indications that it may abstain.