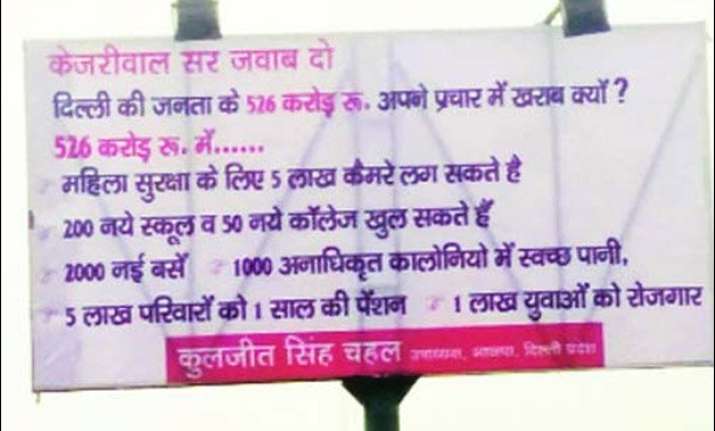 New Delhi: The Delhi unit of Bharatiya Janata Party (BJP) today hit back at the Aam Aadmi Party's (AAP) 'Prime Minister Sir' posters by putting up a series of hoardings across the capital questioning the city government's expenditure on its advertisement campaign.
Through the posters, BJP tells 'Kejriwal Sir' the things the Delhi CM could have done with the Rs 526 crore the state government had budgeted for its advertisements.
The posters read: 'Kejriwal Sir, jawab do (sir, please answer), why is Rs 526 crore wasted on publicity when this fund could be utilised to put up five lakh cameras for women's security?'
It also adds that 200 new schools and 50 new colleges can be opened with this money and people can get 2,000 new buses.
1,000 unauthorised colonies can get drinking water, five lakh people can get pension for one year and one lakh youth can get employment, the posters tell Kejriwal.
BJP's Delhi unit chief Satish Upadhyay said that the way AAP have spent Rs 526 crore on advertisement is questionable.
"Delhi's public wants know if this money could have been used rationally by installing 5 lakh cameras for safety, building 200 new schools and 50 new colleges. But the advertisement will not make their future as you are just advertising for yourselves," Upadhyay said.
Last week, the AAP government had put up posters across the city requesting Prime Minister Narendra Modi to allow it to work.
In its posters and hoardings which were critical of Modi, Kejriwal alleged the PM was creating hurdles in his government's functioning.