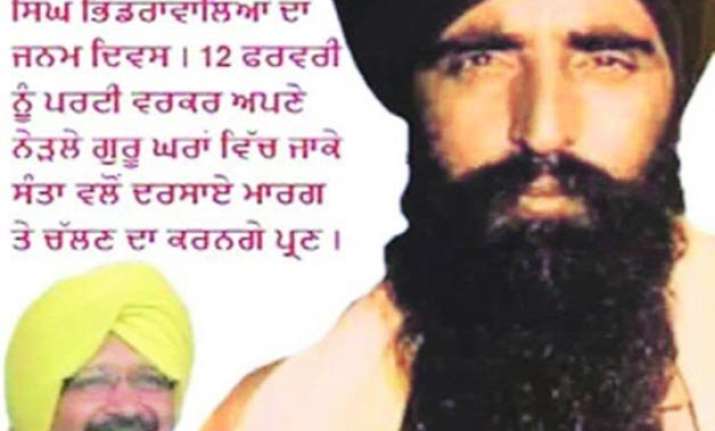 New Delhi: A poster carrying pictures of slain militant Jarnail Singh Bhindranwale along with Delhi Chief Minister Arvind Kejriwal and other Aam Aadmi Party (AAP) leaders has sent flutters down  the political circles in Punjab.
The poster shows the AAP leaders urging people to celebrate the birth anniversary of Bhindranwale on February 12.
Besides the Khalistan movement spearhead and the Delhi CM (who was in a turban), the poster featured Aam Aadmi Party leader Sanjay Singh, party's Punjab convener Sucha Singh Chhotepur, AAP MP Bhagwant Mann and Faridkot MP Professor Sadhu Singh.
However, AAP leaders led by state incharge Sanjay Singh and convenor Sucha Singh Chhotepur  have distanced the party from the posters, stating it was "dirty politics" being played by rival parties.
Targeting the AAP over the issue, Punjab Pradesh Congress Committee president Capt Amarinder Singh said, "On the one hand, they (AAP) are invoking people for 'revolution', and on the other, they are asking people to celebrate Bhindranwale's birth anniversary.
Singh accused the AAP of "engaging in disruptive and destabilising tactics for short term political gains that could create anarchy".
The message in Punjabi says: "On February 12, the AAP will observe the birth anniversary of Jarnail Singh Bhindranwale. On this day, all party workers should visit the nearest Gurdwaras and pledge to walk the path shown by Sants." It further says the poster was issued by the AAP, Punjab, and "Bhindranwale, a lion. We will fulfil your dream".