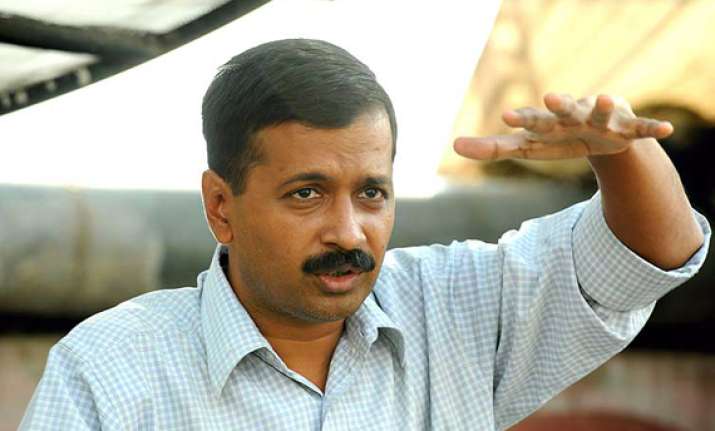 New Delhi, Nov 22: Activist-politician Arvind Kejriwal Thursday took up cudgels on behalf of NSG commandos, saying some of those who fought Pakistani terrorists in Mumbai were now without work and denied compensation.
"Ajmal Kasab was hanged on Wednesday but those NSG commandos who fought these terrorists are still fighting for their rights," Kejriwal said at a press conference here.
Kejriwal claimed that some of the commandos were sacked without pension and some were denied medical benefits. A few former NSG commandos were at the press conference.
"Some were thrown out of their job with no pension, and they foot their own medical bills. No honors for them," Kejriwal said.
He said the government was misleading the nation about the compensation offered to NSG guards injured in action.
"A total of Rs.31 lakh was given to the 11 injured. Of this, Surinder Singh got just 2.5 lakh," Kejriwal said.
Surinder Singh, a former commando who was at the press conference, said: "The donation came from Govind Ballabh Trust. Rs.2.5 lakh was to be disbursed to each commando. They (army) only forwarded the names of four commandos for the compensation.
"When I asked why I was not included, they told me that only those who sustained severe injuries were eligible. I was not only severely injured, I also lost my job.
"They later gave me the real reason. The donation money had been transferred to the union home ministry," Surinder Singh said.
He said the authorities could not produce any document that prescribed the criteria for fund disbursement.
"I got Rs.1 lakh from the Pradhan Mantri Rahat Kosh," he said.
The press conference was held a day after Kasab, the only Pakistani terrorist caught during the 2008 Mumbai terror attack, was hanged in Pune.
A press release issued by the Ministry of Defence claimed that  Naik Surender Singh of 2 Grenadiers was given all his entitlements.
The release said, "NSG is a deputation organization where personnel from the Army serve for three years and those from the CAPF, for 5 years. 
"Nk Surender Singh came to the NSG on 9 May 2007. He suffered Acoustic Trauma during the Mumbai operations and became a permanent Low Medical Category on account of Sensory Neural Deafness of the Left Ear.
" In the normal Course, he would have been reverted to his parent unit 2 GRENADIERS on completion of his three year tenure on 8 May 2010. However, on compassionate grounds, he was retained in the NSG till 15 October 2011, when he was boarded out by a Medical Board at Army Base Hospital Delhi under the aegis of HQ Delhi Area.
"Nk Surender Singh has been sanctioned pensionary and terminal benefits viz-a-viz retirement gratuity Rs.2,11,458/-, Commutation of pension Rs.11,35,809/-, Armed Forces PF Rs.6,48,195/-, Army Group Insurance Rs.1,13,849/- and Army Group Disability Cover Rs.10 lakhs, Final settlement of accounts Rs.89,705/- and ex-gratia from welfare fund Rs.10,000/-.  He is also entitled to an ex-gratia compensation of Rs.9 lakhs for 100% disability which will be processed separately. 
"He has been sanctioned a pension of Rs.25,254/- per month which includes service elements and war injury elements.
" His Ex Servicemen Health Scheme Card has also been dispatched to the Zila Sainik Board, Jhajjar District on 05 October 2012 for handing over to the individual.
" As regards, financial donations received from various private entities, in accordance with the Service Rules, only contributions to the NSG Central Welfare Fund were accepted.
"For financial contributions on individual names, only amounts received for the next of kin of the deceased were accepted and paid to the next of kin.  Other contributions were returned to the donors in accordance with rules with the proviso that the same be remitted to the NSG Central Welfare Fund.  Therefore, the Cheque of Rs.7 lakh received from Mr.
MS Dhoni
was for the NSG Central Welfare Fund and was credited accordingly.
" The Government has taken all care to pay all entitled terminal benefits due to Nk Surender Singh.  In case, he still has any grievance, the Ministry of Defence is prepared to look into it.", the press release said.
The press release further said: " In the 26/11 Mumbai operations, one Officer and one Non Commissioned Officer were martyred and 17 Officers and Other Ranks were injured. Both martyrs Major Sandeep Unnikrishnan and Havildar Gajender Singh were awarded the Ashok Chakra (Posthumous).
"The  next of kin of Major Unnikrishnan got a financial compensation of approximately Rs.1.3 Crores and a flat. Similarly, the wife of Havildar Gajender Singh received approximately Rs.1.27 Crore, a petrol pump and a flat. His mother too received Rs.15 Lakhs approximately. Both these personnel also received enhanced pension benefits as applicable in the Army.
"As regards the injured, there were one Kirti Chakra, two Shourya Chakra, six Sena Medals, one Mention in Despatch and three Chief of the Army Staff Commendation Cards awarded. Four persons with grievous injuries received financial compensation of Rs.4.8 lakh each and others with lesser injuries received Rs.2.3 lakh each".