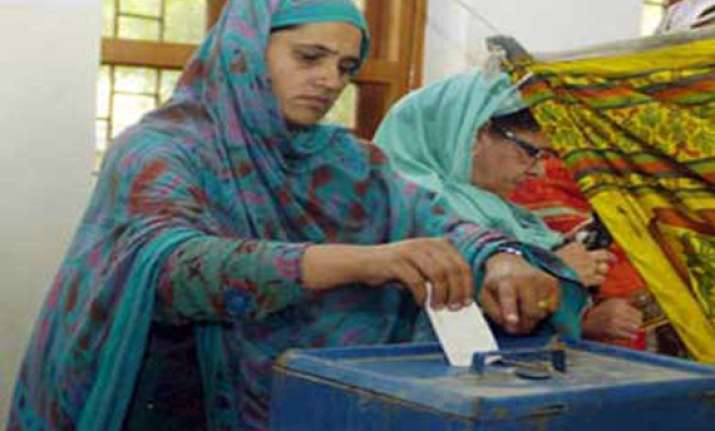 Srinagar, Dec 3: Amidst tight security, polling is underway today for the four Legislative Council seats in Jammu and Kashmir under the Panchayat quota.
The polls for the reserved seats are being held after a gap of 38 years as the Panchayat elections in the state were held last year after a gap over three decades.
"Polling began at 9.00 AM and will continue till 5.00 PM," Divisional Commissioner, Kashmir, Asgar Samoon said.
As many as 33,450 panchayat members will decide the fate of 37 candidates in fray.
Election officials said while polling has been brisk in some areas of Jammu, the response so far in the Valley has been poor due to cold conditions early in the morning.
National Conference and Congress - partners in the ruling coalition - are contesting the elections jointly and have fielded two candidates each for the four seats.
The opposition parties, including PDP and Panthers Party, have fielded candidates on all four seats while the Bharatiya Janata Party is contesting on three seats -- two from Jammu region and one from Kashmir Valley.
The Bahujan Samaj Party has also fielded three candidates.
As many as 15,628 panchayat members will elect two MLCs in Jammu division from a total of 21 candidates, while 17,912 members will cast their votes to elect two members from the 16 candidates in fray from Kashmir division.
Tight security arrangements have been put in place with para-military and state police personnel deployed in sensitive areas to deal with any untoward incident.
As many as 27 companies of CRPF and 40 companies of police and armed police have been deployed for the security and monitoring during voting.
Security has been tightened in view of recent incidents of militancy.
Deployment of CRPF and police has been completed in most of the places where polling will be held tomorrow, they said.
Counting of votes will take place on December 6 and the EVMs will be shifted from all district headquarters to Jammu and Srinagar on December 4 and 5.