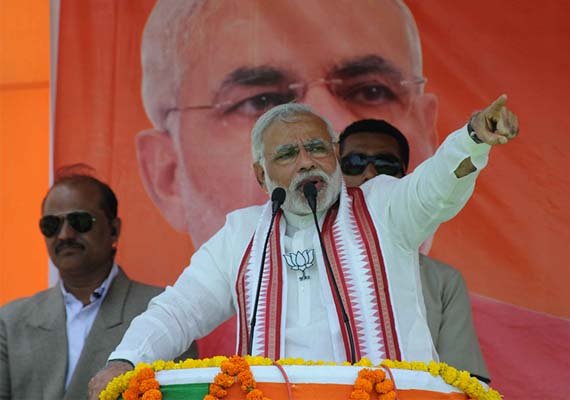 Ranchi: With the five-phase Assembly polls underway in Jharkhand to elect the 10th government in 14 years, instability is the issue that is uppermost in the minds of voters.
Prime Minister Narendra Modi has also flagged the issue in his campaign speeches, terming it as the single-most important factor behind lack of development in the natural resources-rich state since it was created on November 15, 2000.
So did other political parties.
But why is it that on an average there is a new government in the state every one and a half years?  Former Jharkhand Chief Minister Arjun Munda, who had headed fragile coalition governments three times, said, "The single biggest factor for instability is the absence of institutional development."
A candidate from Kharsawan constituency in the latest round of Assembly election, Munda elucidated his point a little more.
"To implement state, district or panchayat plans, for instance, a policy is required and to put this policy into effect institutional development is a must, but Jharkhand is too young a state to allow it to happen."
Munda, now the leader of Opposition, explained that coalition governments in older states could last because they already had the well-developed institutions in place.  
Former deputy chief minister and AJSU Party president Sudesh Mahto, who had been a minister in all the BJP-led governments, however, blamed instability on the lack of leadership.
"Lack of leadership is responsible for Jharkhand's under development," Mahto felt.
Madhu Koda, who headed a 23-month-old UPA government, said pulls and pressures from regional parties making up a coalition government were responsible for the instability.  
"Regional parties have influence in more than 50 per cent of areas in the state, and people naturally think they can benefit from them," Koda, who is now contesting from Majhgaon seat and his MLA wife from Jagannathpur constituency, said.  
Voicing dismay at the state of affairs, Koda observed, "Pulls and pressures in coalition politics are natural, but there should not be any personal agenda while working for the state."
Koda and many of his ex-cabinet ministers drawn from different parties or independent MLAs had served jail sentences of varying period before coming out on bail in connection with corruption cases.
The fate of his former cabinet colleagues Kamlesh Singh of NCP and Bhanu Pratap Sahi of Navjawan Shangharsh Morcha has already been sealed in the EVM after the end of the first phase polling on November 25.
Educationists, however, have attributed the 'crisis' to "geo-politico-cultural factors", saying "inherent reasons like geographical and cultural differences do not give any one political party the advantage".
"Therefore, regional parties like the JMM and AJSU have their own pockets," Prof Ramesh Sharan (Department of Economics with Ranchi University) said. 
He said that even before the state's creation this side of the undivided Bihar was inclined towards regional parties with JMM, RJD and AJSU getting seats - JMM having its bastion in Santhal Parganas and RJD in Palamau division, denying a clear majority to any single party in this region.  Geologist Nitish Priyadarshi, however, reasoned that the instability occurred because of voting behaviour.  "
Jharkhand is divided into two main cultures - one in the Santhal Parganas and another in the other districts. Even tenancy acts are different for Santhal Parganas and Chota Nagpur regions, leading to distinct voting preferences contributing to instability," he said.
Prof Saheed Hassan (Department of Psychology, Ranchi University) blamed different parties addressing differently to people as one of the main reasons for political instability.  "Even now, some parties are talking about developing tribals while others are canvassing for uplift of dalits and yet another party is trying to woo minority communities," he said.
He emphasized on addressing the needs of all sections of society.
So, will this election script a different story? For that the anxious Jharkhandis have to wait for December 23.