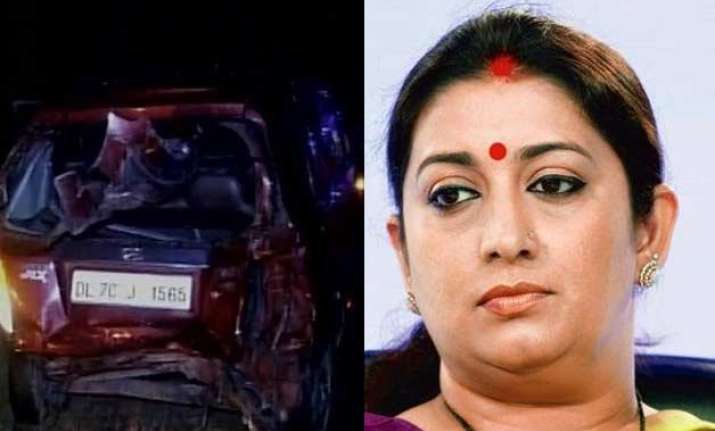 New Delhi: Backing HRD Minister Smriti Irani against the claims made by the daughter of the Agra-based doctor Ramesh Nagar who died in the accident at Yamuna Expressway on Sunday, the police today said that the minister's convoy reached the spot 7-8 minutes after the accident. It further stated that the convoy had crashed into the already piled up vehicles.
"Smriti Irani ji's convoy had reached accident spot 7-8 minutes after the accident, where 1 person died and 2 were injured. Her convoy crashed into vehicles which were already piled up on Yamuna Expressway due to that accident," said Rakesh Yadav, SSP, Mathura.
The accident took place on Saturday at the highway where the doctor was killed in the chain of collisions which had led to a huge pile up of vehicles. Irani was returning from the same route from Vrindavan after attending a convention organised by Bharatiya Janata Yuva Morcha.
The minister had earlier professed that she tried to help the injured who were lying on the road and ensured that they reach a hospital. However, the victim's daughter Sandali contradicted her claim.
 "I did ask her for help but she completely refused to help us and said she could help us afterward also. Smriti Irani could have helped us. Had she helped (us), probably our father would not have died," she said earlier today.
"My sister literally pleaded with folded hands to Smriti Irani for help, but she did not stop," said Abhishek Nagar, the victim's son.
However, Irani's office issued a statement today in which it said that in sections of media a news story was being run regarding an accident that happened on Yamuna Expressway on late night of March 5, in which it has been mentioned that vehicle with registration number (DL 3C BA 5315 - Honda city) has allegedly hit a biker.
"It is clarified hereunder that this vehicle has nothing to do with HRD Minister's cavalcade, while it is to be noted that Union HRD Minister, Smt. Smriti Zubin Irani, had directed SSP, Mathura, to arrange ambulance immediately so that injured could be given medical treatment at the earliest," it said.