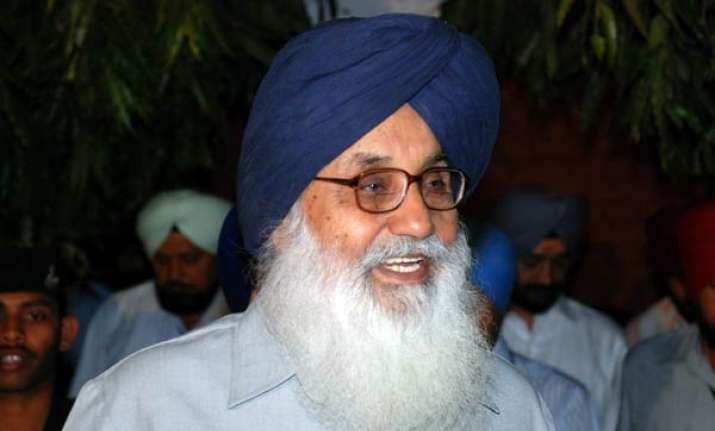 Chandigarh, June 5 :
Punjab Chief Minister Parkash Singh Badal today strongly condemned what he described as the "shocking" police crackdown against peaceful gathering in the early hours at New Delhi's Ram Lila ground.
"It is unbelievable that the government could resort to such high handedness against Baba Ramdev and his supporters without the slightest provocation and without any prior warning," he said here.
Badal termed the development as utterly incredible as the gathering was neither posing any threat to peace nor indulging in any violent or provocative act.
In a statement, Badal alleged that such brazen violation of civilised norms and fundamental democratic rights in the national capital of the world's largest democracy is bound to tarnish the image of the country in the global community.
He said that his party strongly supported the move to bring back black money stashed away in foreign banks.
In a separate statement here, Badal's estranged nephew Manpreet Singh Badal, who in March this year floated his own Peoples Party of Punjab (PPP), also strongly condemned the government action against a peaceful protest.
Manpreet said that the PPP supports Baba Ramdev in his countrywide drive against corruption.
"Governments of the day, be it in Punjab (SAD-BJP) or Delhi are not doing enough to curb corruption, instead are intend upon repressing the people protests with force or are dressing it up with false propaganda to befool them," he said.
Punjab Chief Minister Parkash Singh Badal said the people are "at war" with the Congress-led government at the Centre on the issue of corruption.
He said the situation that had emerged after the last night's incident was "extremely alarming".
He also demanded that black money stashed away abroad should be brought back, confiscated and declared a national asset.
Badal said that he and his party SAD fully support the efforts of the members of the civil society and eminent people like Anna Hazare and Baba Ramdev in removing corruption from the public life and for bringing back "staggering sums of black money" lying in foreign banks.
Meanwhile, INLD supremo and former Haryana Chief Minister Om Prakash Chautala strongly condemned the incident and said it has not only brought back the memories of Emergency but also of Jallianwala Bagh massacre.
He said the present Congress-led government at the Centre has now lost the moral authority to rule the nation. PTI