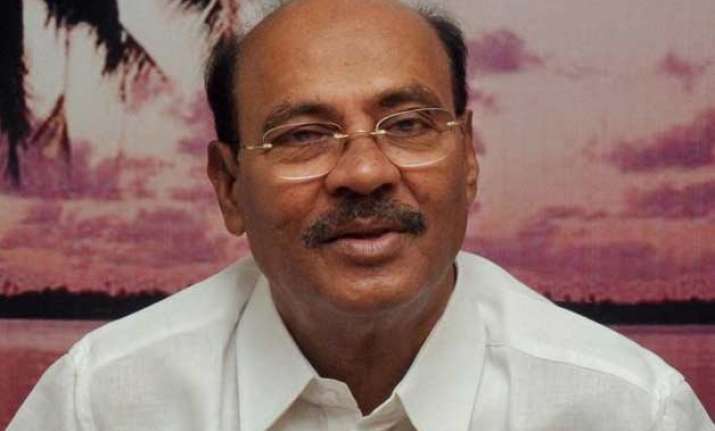 Chennai: NDA ally PMK today flayed the Prime Minister's 'silence' on gunning down of 20 people, many of them Tamils, in a police operation in Andhra Pradesh against red sanders smugglers and sought a probe either by a Supreme Court judge or CBI, saying only Central intervention could ensure justice.
While Tamil Nadu Chief Minister O Panneerselvam just stopped at writing a letter to his Andhra Pradesh counterpart N Chandrababu Naidu, "Prime Minister Modi doesn't seem to be bothered that such an incident had even happened," PMK founder S Ramadoss said in a statement.
"While Tamil Nadu is on the boil over the atrocious murders by the Andhra Pradesh police, the Prime Minister has not made any comments," he said and asked why Modi was maintaining 'silence'.
During such incidents concerning two states, the Prime Minister normally calls up the Chief Ministers concerned and expresses sympathies with the families of the victims even as a CBI probe is ordered, he said in the statement.  "But it is regretful that Modi, who condemned the killings of British and Japanese (professionals) by IS terrorists, could not console the families of the 20 Tamils killed," he said.
Ramadoss said if such an incident had happened in one of the north Indian states, there would have been a great upheaval and recalled the BJP's demand for the dismissal of the Congress government in Maharashtra in 2008 when migrant workers from Uttar Pradesh and Bihar were attacked by the MNS.
While the then Prime Minister Manmohan Singh had intervened in the matter, there was no uproar over the killings of 20 persons and this was only because they were Tamils, he alleged.
"Only the Central government can intervene and deliver justice on an issue concerning two states. Therefore, Narendra Modi should strongly condemn the killing of the 20 persons, and order a probe either by a sitting Supreme Court judge or CBI besides providing Rs 25 lakh compensation," he said.
Alleging a conspiracy behind the killings, Ramadoss also charged that the police action seems to be aimed at "satisfying the whims and fancies of some powerful" persons in Andhra Pradesh, saying if this were true, that state government will only make efforts to 'dilute' the case.
"The fact that Andhra Pradesh Chief Minister Chandrababu Naidu has not even expressed regret confirms that. Further, he has explained in person about the issue to Union Home Minister Rajnath Singh which is seen as a defence of his government's action," he said.