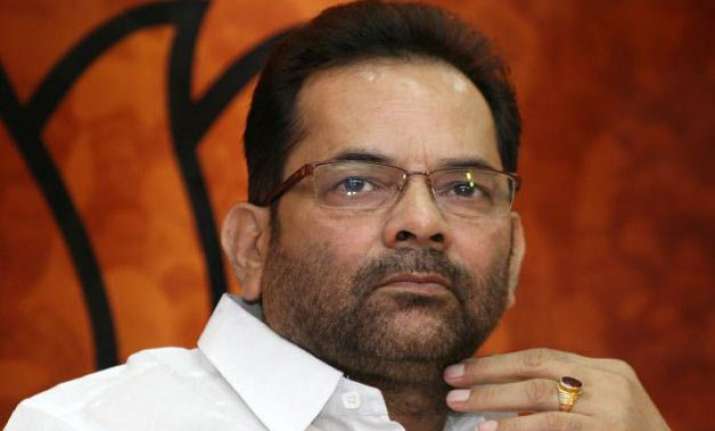 Allahabad:  Hailing Prime Minister Narendra Modi's visit to the naxal-infested Dantewada region of Chhattisgarh as a "bold step", Union Minister Mukhtar Abbas Naqvi here today asserted that the BJP-led NDA government was resolved to root out the ultra-left insurgency from the country.
"Modi is a bold leader whose dynamism has resulted in the entire world looking up to India. The boldness was reflected in his trip to the Dantewada region also where he went with the message of peace and development. We are confident that the NDA government will root out the naxal menace under his dynamic leadership", Naqvi told reporters here.
Making the first prime minesterial visit in three decades to the Maoist hotbed of Dantewada, Narendra Modi today asked the ultras to shed the gun and put an end to mindless deaths in favour of peace.
"Those who feel that whether or not this macabre drama of death will end, I can tell you with full commitment and make you believe that there is no need to get disheartened. This (death) too will stop," he said addressing a public meeting
there.
Asked about criticism from various quarters, including some leaders belonging to the Sangh Parivar, to the bail granted to actor Salman Khan in the hit-and-run case, the senior BJP leader who is the Minister of State for Minority Affairs, said "it was the decision of a court of law. There should not be any criticism which casts aspersions on the wisdom of the judiciary".
Later, Naqvi launched the "Pradhan Mantri Suraksha Beema Yojana", "Pradhan Mantri Jeevan Beema Yojana" and "Atal Pension Yojana" schemes in the city.
The Modi government has launched the schemes simultaneously at 116 cities across the country.
Addressing a function organized on the occasion, the BJP leader who also holds the Parliamentary Affairs portfolio, charged the Congress with "spreading rumours over the Land Acquisition Bill", and claimed "unlike the previous regimes including the Congress-led UPA", the NDA government "does not merely announce welfare schemes but ensures effective implementation as well".
"We are close to the completion of one year of formation of government. Under the leadership of Modi, the government has been tirelessly working towards fulfilling its promise of 'sabka saath sabka vikas'.
The three schemes launched today are yet another step in the direction which would benefit millions of people who do not have access to any type of social security", Naqvi added.