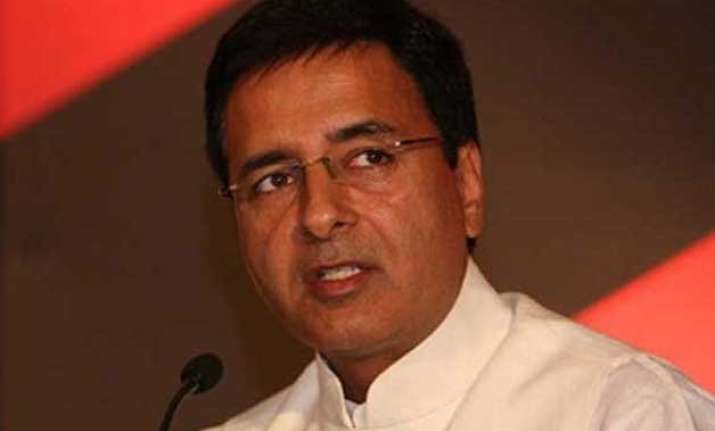 New Delhi:  Congress today accused Prime Minister Narendra Modi of renaming, repackaging and relaunching social security schemes by previous government and said it was NAMO style of governance where there was "nothing original and message only" by his "suit-boot sarkar".
Claiming that such schemes were already launched by the previous government, the opposition party also "sincerely" hoped that Modi government will not shut them down as they provided security umbrella to 17 crore people in the country.
"The fact is that the high voltage media exercise undertaken yesterday was yet again a blatant attempt at renaming, repackaging and relaunching coupled with the now characteristic event management style of governance.
"It has again established the 'NAMO' style of governance i.e. nothing-original, message-only," said R S Surjewala, Incharge, Communication Department, AICC, referring to acronym used for Modi by his supporters.
He said contrary to claims, the entire exercise yesterday was aimed at "credit taking" by looking to be pro-people, in the midst of the "anti-people suit-boot sarkar" image that this Government has made for itself by its "misdeeds and crony friendly policies".
"The people of this country, however, can see through this subterfuge. They know that the schemes are nothing but a repackaged Aam Aadmi Beema Yojana (AABY), Rajiv Gandhi Shilpi Swasthya Beema Yojana (RGSSBY) and the Rashtriya Swasthya Beema Yojana (RSBY)- schemes that the previous government launched with an aim to widen the social security net," Surjewala said.
Prime Minister Narendra Modi yesterday launched Pradhan Mantri Jeevan Jyoti Bima Yojana (PMJJBY), Pradhan Mantri Suraksha Bima Yojana (PMSBY) and Atal Pension Yojana (APY).
Surjewala claimed that ever since their launch in 2007 and 2008, the schemes benefited about five crore (AABY), 42 lakhs (RGSSBY) and 12 crore (RSBY) people and an amount of Rs 2155 crore, Rs 327.71 crore and Rs 4300.07 crore, respectively has been disbursed already.
"The cumulative number of individuals covered under these schemes exceeds 17 crore (six crore families) and the amount benefiting them sums up to over Rs 7800 crore.
"We sincerely hope that the Modi Government is not wanting to shut down these major schemes providing a security umbrella to 17 crore people of the country," he said.
The Prime Minister had said while launching the schemes that he was not initiating them to "reap political benefits" and that he was not one of those "several small-time politicians who launch certain schemes to win the next election "Having put the launch in the right perspective, the Congress party hopes that the Prime Minister and his government will now work beyond media-covered, credit-taking launch events and take the benefits to the people," Surjewala said.
Elaborating about the schemes launched by the previous government, he said that the Aam Aadmi Beema Yojna (AABY) carries a premium of Rs 200 per annum with 50 per cent of this amount being subsidised from the Social Security Fund.
He said that further in case of Rural Landless Households and Special Occupational Groups, 100 per cent premium is subsidised. The Scheme also envisaged an accident or permanent disability cover of Rs 75000 and natural death cover of Rs 30000.
Elaborating about Rajiv Gandhi Shilpi Swasthya Beema Yojana (RGSSBY), he said that the scheme envisages payment of premium of Rs 897 per annum out of which premium of only Rs 200 per annum is payable by general category and Rs 100 per annum is payable by SC/ST/BPL and the remaining premium is payed by the Government.
He said that similarly Rashtriya Swasthya Beema Yojana (RSBY) has been implemented in 25 states, covering nearly all BPL households and beneficiaries under RSBY get automatic hospitalisation coverage of up to Rs 30,000 for most diseases, for up to five members of the family.
He said that under this scheme, beneficiaries need to pay only Rs 30 as registration fee, while central and state governments pay the entire fee to the insurance company.