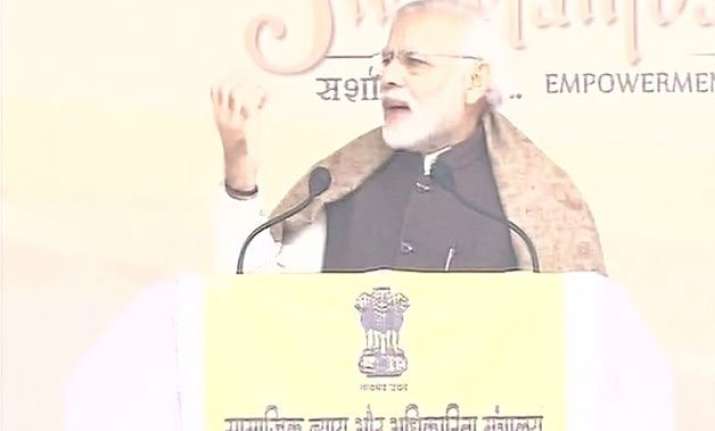 Varanasi: Prime Minister Narendra Modi gifted electronic aid to differently-abled people in his parliamentary constituency Varanasi on Friday.
Addressing the gathering, Prime Minister Modi also expressed his concern for the people, who got injured in the bus on their way to this venue. He said that the government would make adequate arrangements for treatment of those injured in the accident.
Here are the updates:
* We will do everything possible, where rules and systems have to be changed, we will change them: PM Modi
* While people are sympathetic, things are lacking when it comes to facilities be it in trains, buses etc: PM Modi
* I recall so many touching experiences when I was CM, when I interacted with the 'Divyang' sisters and brothers: PM Modi
* As a society, we have to ensure that together we have to care for all those who are 'Divyang': PM Modi
* I met a 'Divyang' child called Rahul here. I was amazed at how he operated the computer: PM Modi
* When I say let us use the word 'Divyang' it is about a change in mindset. Let us not think about what is lacking in a person, let us see what is the extra ordinary quality a person is blessed with: PM Modi
* Government will make arrangements for 'Divyang' sisters, brothers who were to join us but met with accident: PM Modi
* The result of such camps is that middlemen will get eliminated. And with middlemen getting eliminated, some people are getting worried: PM Modi
* This departnment (organising the event) was founded in 1992. I was told that in last 20 years, only 50-55 camps were organised. But my government worked hard and organised 1800 camps in a year. Such camps will be organised in future too: PM Modi
* Some people will say, this camp is here because Varanasi is Prime Minister's constituency. But I want to tell you, this is not the first camp, this is also not the last camp. Our government has organised 1800 camps so far: PM Modi
* We are constantly thinking about how development will reach the poor and how their lives can be transformed: PM Modi
* I thank PM Shinzo Abe for the kind words of praise he used for Kashi and the Ganga: PM Modi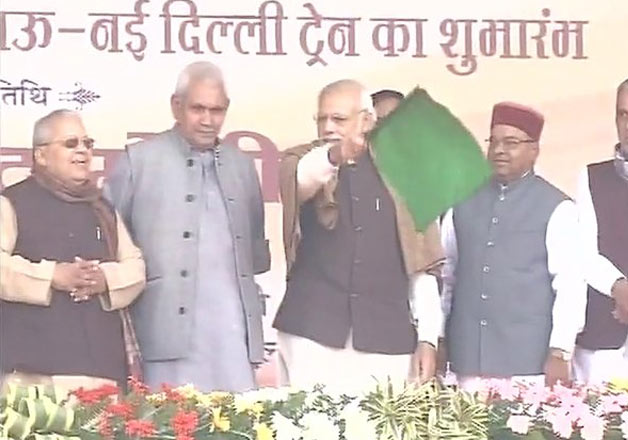 * Japan's PM visited Varanasi some time back. I felt proud when I heard he spoke about it in detail at an event in Japan recently: PM Modi
* Lord Loomba and his wife have done a lot of work for widows and to ensure that they can lead a good life: PM Modi
* Some 'Divyang' sisters & brothers were to join us but the bus had an accident. Govt. will make arrangements for treatment: PM Modi
* PM Modi flags off the 'Mahamana Express' (Varanasi to New Delhi).
Named after Mahamana Madan Mohan Malaviya, renowned educationist and founder of the Benares Hindu University (BHU), the thrice-a-week superfast train promises to cover the nearly 800-km distance between Varanasi and New Delhi in less than 14 hours.
* PM Modi distributes aids among differently-abled people including children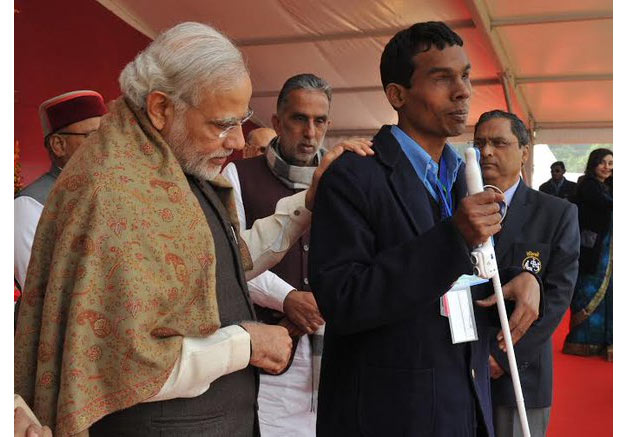 * PM Modi meets differently-abled children
* PM Modi reaches Diesel Locomotive Works (DLW) ground in Varanasi
This is Prime Minister's fifth visit to his constituency after assuming office in May, 2014
The Prime Minister had in a radio address recently made a plea for doing away with the word 'vikalang' (handicapped) and calling the differently abled as 'divyang' (born with a divine limb/organ) in a bid to sensitise the society towards their right to live a life of dignity and honour.
The last tour, on December 12 last, was marked by Modi witnessing the famous Ganga Arti on the banks of the holy river, accompanied by the Japanese Prime Minister Shinzo Abe.
Unprecedented security for Modi in Varanasi
An unprecedented security arrangement has been put in place for Prime Minister Narendra Modi's scheduled visit to his parliamentary constituency on Friday, officials said.
Officials involved in the security arrangements said that Modi would be under a five-tier security, owing to the "threat perception", mainly after the Pathankot terror attack.
While the Special Protection Group (SPG) would be in close proximity to the Prime Minister, the second ring would be of the National Security Guard (NSG) commandos, followed by the commandos of the Anti-Terror Squad (ATS), the fourth ring being of the central police force and the fifth and the outer most ring being that of the local police.
"All the areas where the prime minister's cavalcade would be moving have been sanitised and would be thrown out of bounds for the people of the city more than four hours in advance," a district police official said.
Hundreds of policemen and security personnel have been deployed at the Lal Bahadur Shastri airport and Dereka, where Modi, after his arrival, would be spending over two hours.