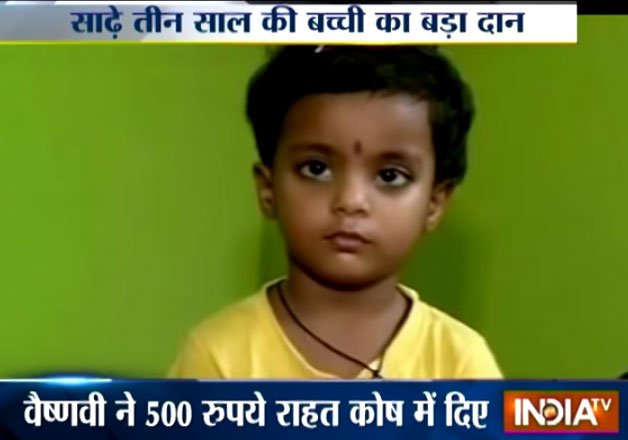 Varanasi: Prime Minister Narendra Modi has appreciated three-year-old girl from Varanasi, Vaishnavi Dixit, for contributing a cheque of Rs 500 for Nepal's earthquake victims.
The Prime Minister's Office (PMO) has sent a letter of appreciation to Vaishnavi.
Her parents said that they are excited to receive a response from the Prime Minister.
Dinesh Kumar Dixit, father of Vaishnavi, said that his daughter had donated money to the PM Relief Fund not only to provide aid to the quake-hit families of Varanasi in Nepal, but also to create awareness among people.
He said that Vaishnavi was scared post earthquake so they decided to do something for awareness to come forth to help in times of crisis.
"Letter was sent from Modiji. Series of earthquake.... thanks Modiji," she said.
The Nepal earthquake has caused havoc in April this year and led to a loss of huge property and lives in the Himalayan nation. Modi had assured Nepal that India will provide every help they need and also called for a 'relief fund'.
Earlier, Bollywood megastar Amitabh Bachchan contributed to the fund donating Rs 11 lakh, for which the Prime Minister thanked him.