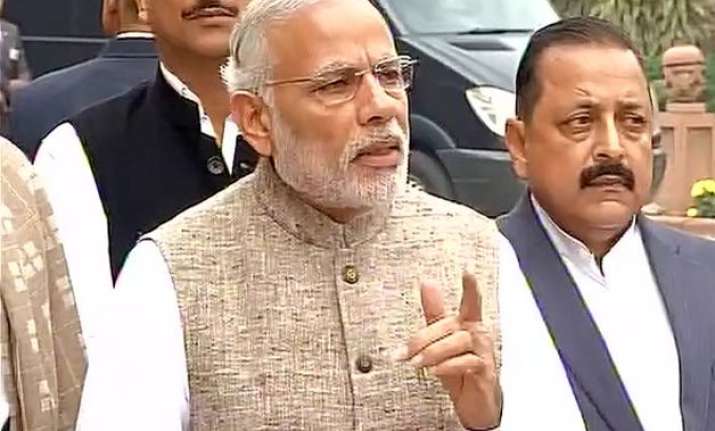 New Delhi: Prime Minister Narendra Modi today expressed hope that the MPs will leave no stone unturned to match upto expectations of people of nation in the Winter Session of Parliament.
Speaking to media just ahead of the Winter Session, he said, "Parliament best place for dialogue. Hope all MPs live up to the expectations of the people. Debate, discussion & conversation is the soul of our Parliament."
The Prime Minister also said that he expects Parliament to shine with best thoughts, best discussions and best innovative ideas during the Winter session.
"Our Constitution is a ray of hope. H for Harmony, O for opportunity, P for people's participation, E for equality," he said.
The first two days of the month-long session will be dedicated to the anniversary of the adoption of the Indian Constitution also known as Constitution Day.
Parliamentary Affairs Minister, Venkaiah Naidu, said that the government is ready to discuss each and every issue including 'intolerance' in the Parliament.
"We'll be observing Constitution Day today. I appeal all parties to take inspiration from Dr Ambedkar's contribution. Government is ready to discuss each and every issue in Parliament. Government willing to discuss issue of so called intolerance," he told reporters this morning.
Meanwhile, there are reports that the Prime Minister may speak on the issue of intolerance during a rare debate to commemorate the Constitution Day.
The government has also shown willingness to accommodate the Opposition's concerns over intolerance in a House resolution to commemorate the making of the Indian Constitution.