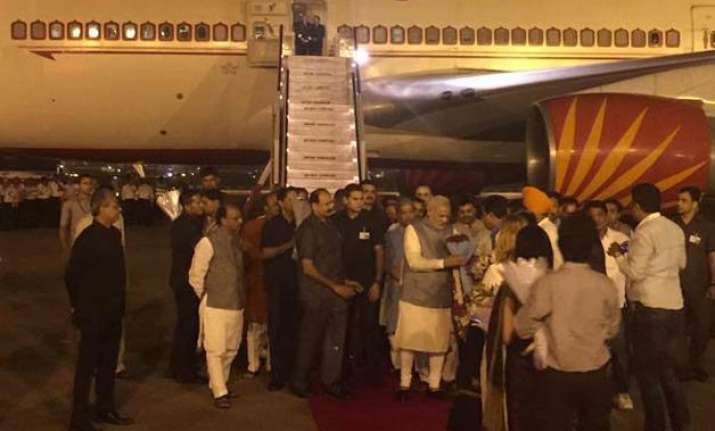 New Delhi: Prime Minister Narendra Modi returned home late on Tuesday after wrapping up his six-day tour that took him to China, Mongolia and South Korea where he held bilateral talks and signed several pacts to bolster India's relations with the three East Asian countries.
Modi, who began his trip with China, held wide-ranging talks with the leadership of the three nations and also wooed investors for his 'Make in India' campaign.
He began his three-day visit to China from Xi'an, the hometown of Chinese President Xi Jinping with whom he held "very substantive" discussions focussing on strengthening of mutual trust and the boundary issue.
Modi also held talks with his counterpart Li Keqiang and pushed for clarifying the Line of Actual Control (LAC).
The Prime Minister then headed to Mongolia for the first ever visit by an Indian Premier to the country.
Modi held wide-ranging discussions with his Mongolian counterpart Chimed Saikhanbileg and the two leaders pledged to take bilateral economic partnership to a new level.
During the visit, India also announced a USD one billion credit line to Mongolia for infrastructure development as the two countries upgraded their ties to "Strategic Partnership" and agreed to deepen defence cooperation besides exploring potential for tie ups in areas like the civil nuclear sector.
In South Korea, the final destination of his three-nation tour, Modi and President Park Geun-hye held discussions and resolved to add "new substance, speed and content" covering defence, trade and investment, and regional cooperation to take the bilateral ties to a qualitatively higher level.
South Korea decided to provide USD 10 billion to India for infrastructure, development of smart cities, railways, power generation and other diversified areas as the two countries agreed to upgrade their bilateral relationship to a "Special Strategic Partnership".