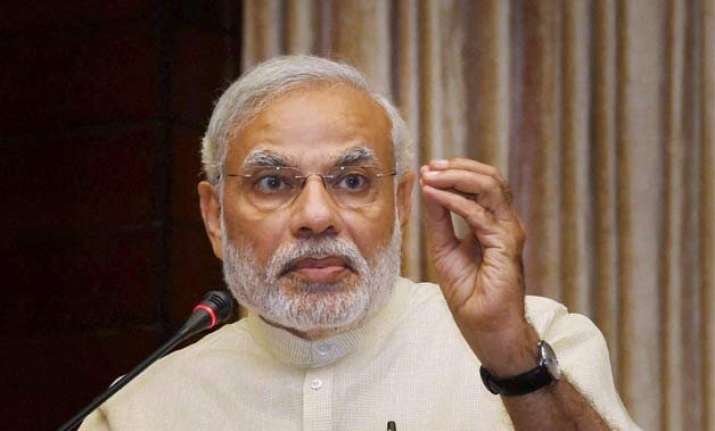 New Delhi: Prime Minister Narendra Modi addressed the nation in the 10 edition of  'Mann Ki Baat' on All India Radio today.
 While Paying tribute the martyrs of Kargil war Modi said that one Indian soldier was equal to 100 rival soldiers during the war. He also mentioned the hardships faced by the families of these martyrs saying they were also fighting a battle.
Expressing shock over the number of road accidents in the country prime minister said ,"every four minutes one person dies in a road accident."
Modi said that government will soon unveil a road safety policy and cashless treatment for victims of road accidents in select cities and national highways.
Emphasising on the role of family for creating awareness, PM said, it is also the duty of families to inform the youngsters about importance of road safety rules.
Modi, however did not speak on the issue of the One Rank One Pension issue. The non implementation of this scheme is being protested by former servicemen.
Highlights of PM Modi's Mann Ki Baat:
     * PM Modi concludes his 10th edition of 'Mann ki Baat'.
     * I congratulate Govt officials for this effort
       *  Govt officials of Harda (MP) have initiated an unique campaign 'Brother No.1' which says a brother who builds toilet as a 'Rakshabandhan gift' for his       sister is best
       * Govt has taken many initiatives regarding road safety, we're soon going to introduce Road Transport and Safety Bill
       * I consider this as good idea,if ppl of nation will send me suggestions fr 15thAugust speech,confident i'll receive many suggestions.
       * This battle was fought by every father whose young son was posted at border, by every sister whose brother was fighting the enemy
       * Kargil battle was not just fought on borders, India's every village, city & town has made a contribution to that
       * The produce of pulses & oil seeds increased by 50% & 33% respectively, a matter of great joy
       * Have launched Deendayal Upadhyaya Gram Jyoti Yojana to ensure that every village gets 24-7 power supply
       * We have taken up a major task,we aim to provide 24-7 power supply to all villages, a difficult task,but we have initiated it
       * The declining interest in the field of science and technology is a matter of concern
       * When we ask students what they want to become when they grow up, 1 out of 100 says he/she wants to become a scientist
       * It's a classic example of how one's job can be made more lively
       * Came to know about a railway employee recently,who apart frm performing duties assigned to him,paints scenes related to Railways
       * I always say 'Karmachaari' (employee) should become 'Karma Yogi'
       * Apart from Govt, it is duty of every family to inform the youngsters in the family about importance of road safety rules
       * One is shocked to see the statistics of road accidents in country, every 4 minutes a person dies in road accident
       * I salute all brave soldiers who lost their lives in Kargil war,for their sacrifice and valour,on the ocassion of Kargil Vijay Diwas
       * Kargil yudhh mein humara ek ek jawan 100-100 dushmano par bhaari padha
       * We have seen a good start of monsoon this year, this will definitely help our farmers to grow kharif crops