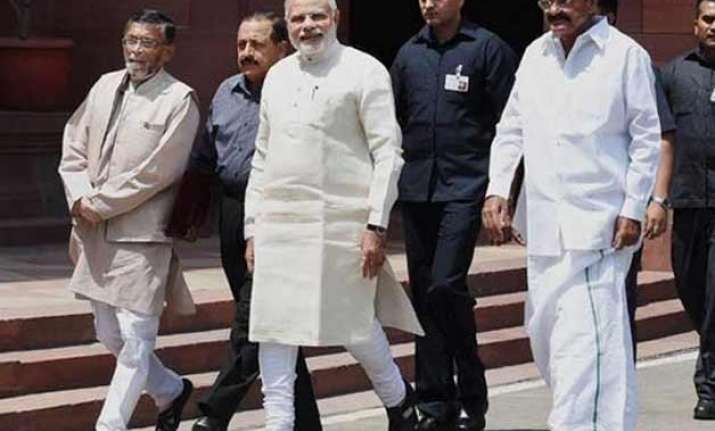 New Delhi: As the Budget session of Parliament resumes today, Prime Minister Narendra Modi said that he looks forward to a productive session, filled with constructive debates on several issues.  "Parliament session begins today. I look forward to a productive session, filled with constructive debates on several issues," he tweeted.
The controversial land bill issue is expected to generate much heat in Lok Sabha with the government deciding to table the new land ordinance on the very first day of the second half of Budget session.
According to the schedule of business, Minister of State for Parliamentary Affairs Rajiv Pratap Rudy will lay on the table a copy of the Right to Fair Compensation and Transparency in Land Acquisition, Rehabilitation and Resettlement (Amendment) Ordinance, promulgated by the President on April 3 under Article 123(2)(a) of Constitution.  External Affairs Minister Sushma Swaraj will also make a statement regarding the 'Recent Developments in the Republic of Yemen and efforts made for safe evacuation of Indian nationals from there'.
The Budget session will conclude on May 8. The Rajya Sabha is having a new session from April 23 that will end on May 13.  On the eve of resumption of Budget Session, Modi yesterday voiced hope that it would be full of "outcomes", noting that the productivity of Parliament has "reached 125 per cent" since his government came to power.
With Parliament set to witness a stormy session over a host of issues, including the land bill, Parliamentary Affairs Minister Venkaiah Naidu asked BJP MPs to be present in their House throughout.
The land acquisition ordinance, which the government could not get converted into a legislation in the first half of the budget session in Parliament due to stiff opposition in Rajya Sabha, was re-promulgated on April 3, a day before it was to lapse.